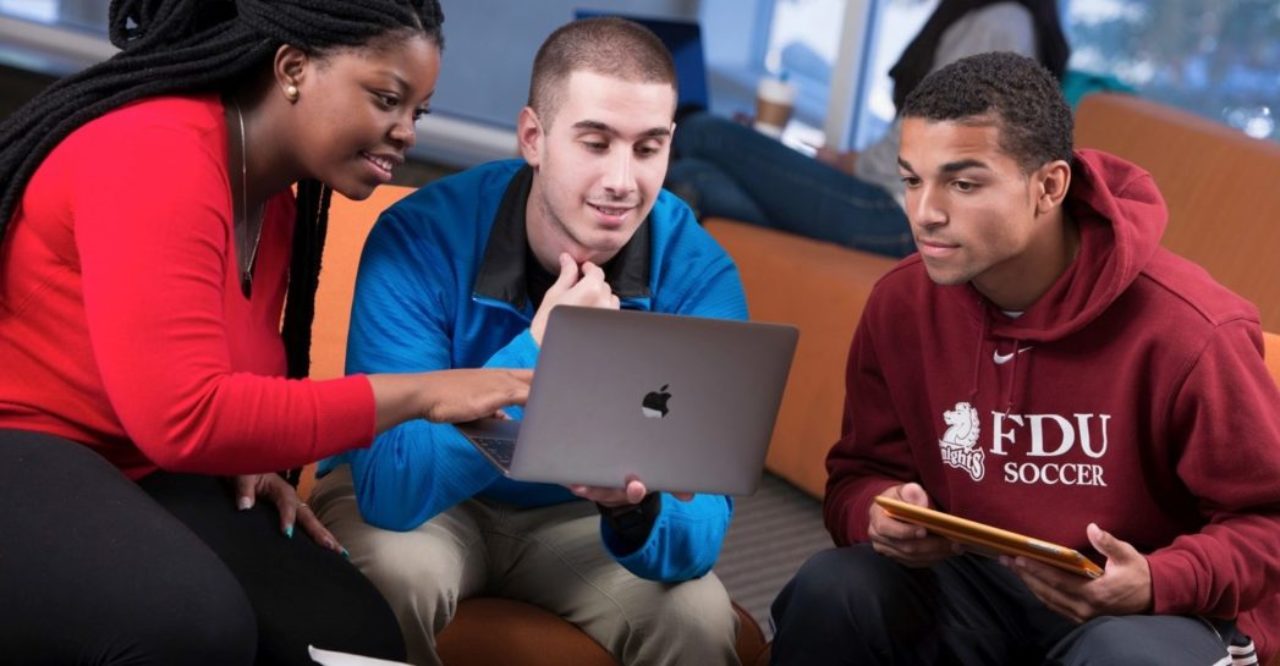 The Master of Arts in Teaching (M.A.T.) is a graduate program in teacher preparation for individuals who already have a baccalaureate (BA or BS) degree in the liberal arts or sciences and a desire to enter the teaching profession. This program provides an efficient path to New Jersey State teacher licensure. It is designed to build on a sound undergraduate academic foundation as well as the candidate's other education and work-related experiences. 
The program is rigorous in its curriculum and expectations, yet flexible in its scheduling to meet the needs of the graduate student who typically must balance formal coursework with other demands. 
The M.A.T. degree requires the completion of thirty-six (36) credits of which 24 to 30 credits meet the eligibility requirements for New Jersey teacher certification.  Candidates have the option of completing the courses required for certification without finishing the M.A.T. degree. Candidates that choose this option may apply for full-time teaching positions in New Jersey upon receiving certification. Candidates may continue directly to complete the M.A.T. by finishing the remaining credits (to total 36).  Or, they may return at a later time to F.D.U. to complete the remaining credits and the M.A.T. degree. If one chooses this option, the credits earned through the certification program will apply toward the M.A.T. degree. Degrees should be completed within five years time.
Fairleigh Dickinson University's School of Education (S.O.E.) offers a Master of Arts in Teaching (M.A.T.) degree with tracks leading to New Jersey certification in:
Early Childhood  (P-3)

Elementary Education (Grades K-6)

Middle School Education Endorsement (Grades 5-8) (only as a second certificate)

Secondary Education (Grades K-12)

English as a Second Language (Grades K-12) 

Initial Teaching Certification with an additional Teacher of Students with Disabilities (TSD), requires 45 credits total for the 2 certifications.  The general (initial) certification must be completed before the TSD can be awarded.
Program Claims
The Master of Arts (MAT) Program produces teaching candidates who are:
Qualified to teach subject matter;
Competent in pedagogy;
Caring professionals;
Technologically proficient;
Culturally responsive to the needs of diverse learners;
Reflective practitioners who embrace the concept of lifelong learning
Prepared to obtain their instructional certification from the New Jersey Department of Education.
Admission requirements
Students may be admitted conditionally to the M. A. T. Program and take up to 9 credits before they pass the Praxis I Core Academic Skills for Educators Exams and the appropriate Praxis II test. For admission to the M. A. T. Program, candidates must have:
a bachelor's degree with a cumulative undergraduate GPA of at least 3.0 (on a 4.0 scale);

Two letters of recommendation;

An interview with a School of Education advisor;
Full admission to the program requires a passing score on all three sections of the Praxis I Core Academic Skills for Educators Exam (tests (5713, 5723, 5733); and the New Jersey Department of Education approved Praxis II exam are necessary for the specific teaching license you are pursuing. One may find the latest information about the minimum passing scores on these exams at NJ DOE's website. For suggestions and other information for preparing for the Praxis tests, please visit the NJ DOE's website.
Program requirements
In New Jersey, the State Department of Education grants Certificates of Eligibility based on the following criteria:
A bachelor's degree from an accredited institution which includes 60 credits in "general education" (liberal arts) courses including at least a 30-credit major (for secondary certification) in any of the liberal arts or sciences; a course in adolescent psychology for middle school endorsement; and course in biology, physiology, or nutrition.  In lieu of a course, the candidate may take an exam in

physiology and hygiene. 

For secondary candidates, a bachelor's degree with at least 30 credits in a coherent sequence of courses in the subject area to be taught (e.g., mathematics, social studies, chemistry, biology, etc.) or in the discipline taught.  At least ½ of the course should be upper level courses.

Passing the Praxis I

Core Academic Skills for Educators exams (5712, 5722, 5732).

Passing the Praxis II Test(s) required for the specific certification(s)

Completing the required courses and credits in an approved teacher certification program with a cumulative G.P.A. of 3.0 or higher;

For middle school endorsement, candidates must have either an elementary or secondary certification.   Middle school is considered an additional endorsement upon the initial certificate. Subject matter specialization for middle school endorsement requires 15 credits in the content area and passing the required Middle School Praxis II exam;

All program completers (those who complete student teaching and apply for certification) must complete, submit, and obtain a passing score on the edTPA (effective 9/1/19).
NOTE: Certification requirements often change. For the most up-to-date information about requirements, please visit the New Jersey Department of Education website at http://www.nj.gov/education/educators/license/
Candidates with a bachelor's degree in technical areas (i.e., marketing, accounting, computer science, economics, etc.), must have their academic transcript(s) evaluated by the School of Education to determine their eligibility for admission to the M.A.T. program. The evaluation will become part of the applicant's file
Degree Plan
Tracks
Please see each track for specifics.  Specific courses vary slightly for each grade/subject level
Career Outcomes
National projections show a need for more than 2 million teachers in the next decade in all grades and subject areas — particularly in the northern and mid-Atlantic regions. The greatest need will be for those teachers with certification in high-demand areas (i.e. special education, world languages, science and mathematics) and those with dual certification (elementary or secondary education certification with a second certificate in areas such as special education, world languages, early childhood, English as a Second Language and bilingual education
Special Information
We invite applicants of all ethno-racial composition to apply to our program.  According to the NJ Department of Education Certification and workforce data:
There are approximates 116,000 teachers in NJ

There is a supply and demand mismatch between the ethno-racial composition of the workforce and the student population.
Students in the NJ schools need excellent role models.  We encourage you to become a role model for our children.  
Did you know?   School districts, are trying  to diversify the workforce—to try to match better the cultural and linguistic backgrounds of their students with the teaching staff and their administrators.