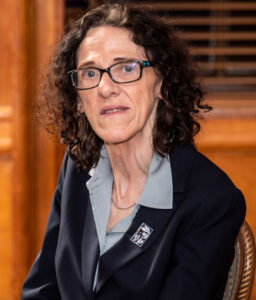 Gillian Small is the University Provost and Senior Vice President for Academic Affairs at Fairleigh Dickinson University. She joined FDU in 2016,where, as the chief academic officer, she oversees academic policies and activities university-wide. She leads efforts at the University to support student retention and success and also leads new initiatives including expanding the University's online programming.
Dr. Small previously served as the Vice Chancellor for Research at The City University of New York (CUNY) from 2008 to 2016. As CUNY's senior research officer, she sought to enhance all levels of involvement in research across the University and connect research and scholarly activities with emerging opportunities. She had overall responsibility for supporting the University's intellectual property portfolio, developing relationships with external research organizations, industry, governmental and non-governmental funding sources and enhancing CUNY's contribution to the economic development of New York City and State. 
In her field as a cell and molecular biologist, Dr. Small gained a national and international reputation and ran a research group that was funded through federal and private grants for more than 20 years. Born in Great Britain, she arrived in the United States in 1985 to carry out postdoctoral work at Rockefeller University. In 1988, she joined the faculty at the University of Florida and was later an assistant and then associate professor at Mount Sinai School of Medicine in New York. She joined CUNY in 2001 as Associate University Dean for Research and Professor of Biology. In 2008, following a national search, she was appointed Vice Chancellor for Research at CUNY.
Dr. Small received her Ph.D. in the biological sciences in 1983 from Wolverhampton Polytechnic (now university) in England. Small's honors include the Feminist Press 2013 award for advancing women in science. In 2015, she was elected to the board of the national Associate for Women in Science.
Contact Information
Gillian Small
(201) 692-7093 (Metro)
(973) 443-8184 (Florham)