SNAH Experiential Learning and Clinical Sites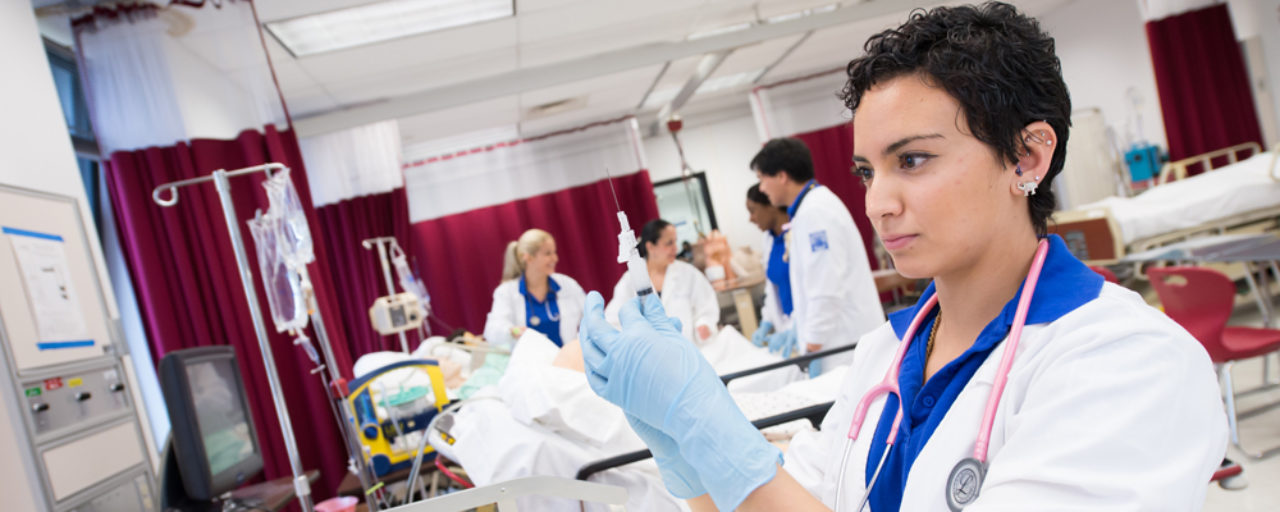 Clinical Experiences for Undergraduate Nursing Students
Experiential learning is an essential component of the education of healthcare students. Entry-Level nursing students are assigned to go to various clinical agencies and clinical laboratories to complete their experiential learning activities each semester. These experiences will vary based on each specialty course.
Clinical sites and clinical laboratory facilities are selected for use based on their ability to provide appropriate educational opportunities. Students are expected to arrange their own transportation to these sites and must comply with the parking regulations of each agency. These sites are located throughout the region and may require commuting up to 40 miles from campus. In addition, our students develop their skills in our clinical labs at Dickinson Hall (FDU Metro Campus, Teaneck) and at Park Avenue Plaza (230 Park Avenue, Florham Park).
Our clinical affiliations include the following agencies, among many others:
Atlantic Health System
RWJ Barnabas Health
Broadway House
CareOne
Children's Specialized Hospital
Cheshire Home
East Orange General Hospital
Englewood Hospital and Medical Center
Greystone Park Psychiatric Hospital
Hackensack Meridian Health
Hoboken University Medical Center (CarePoint Health)
Villa Marie Claire
Hunterdon Healthcare
Kessler Institute of Rehabilitation
Kindred Rehabilitation Services
RWJ University Hospital Somerset
St. Joseph's Regional Medical Center
St. Joseph's Wayne Hospital
The Valley Hospital
Veterans Affairs (VA) New Jersey Health Care
Visiting Health Services of New Jersey
Visiting Nurse Association of Northern New Jersey
Current clinical affiliation agreements can be confirmed with our Administrator for Clinical Affairs and Community Outreach.
Clinical Sites for Advanced-Level Nursing Students
Advanced practice nursing (i.e., nurse practitioner) students participate in planned clinical practice experiences that afford students the opportunity to develop professional competencies and to integrate new knowledge in practice settings that are aligned with their educational preparation. Preceptors (including nurse practitioners and physicians) support students in a broad range of settings (e.g., private offices, healthcare clinics, acute/subacute care institutions) to ensure that students will develop skills to function as members of interprofessional teams.
MSN students can choose from sites that are in our large portfolio of clinical affiliation agreements or can identify alternate clinical sites and preceptors in collaboration with faculty, who are responsible for evaluating overall student performance in clinical practice experiences.
MSN and DNP students who work in a healthcare facility that has a clinical affiliation agreement with FDU are eligible to receive a tuition discount (see Nursing Programs). MSN and DNP students who are interested in establishing a clinical affiliation agreement between FDU and a healthcare facility (to either obtain the tuition discount or as a clinical site) can contact the School of Nursing and Allied Health and discuss their interest with the Administrator for Clinical Affairs and Community Outreach.
Clinical Sites for Undergraduate and Graduate Allied Health Students
The School of Nursing and Allied Health has affiliations with several approved allied health programs including programs at:
Jersey Shore Medical Center, Neptune, New Jersey
Monmouth Medical Center, Long Branch, New Jersey
Morristown Memorial Hospital, Morristown, New Jersey
The University of Medicine and Dentistry of New Jersey (UMDNJ), School of Health- Related Programs
Valley Hospital, Ridgewood, New Jersey
Rutgers University