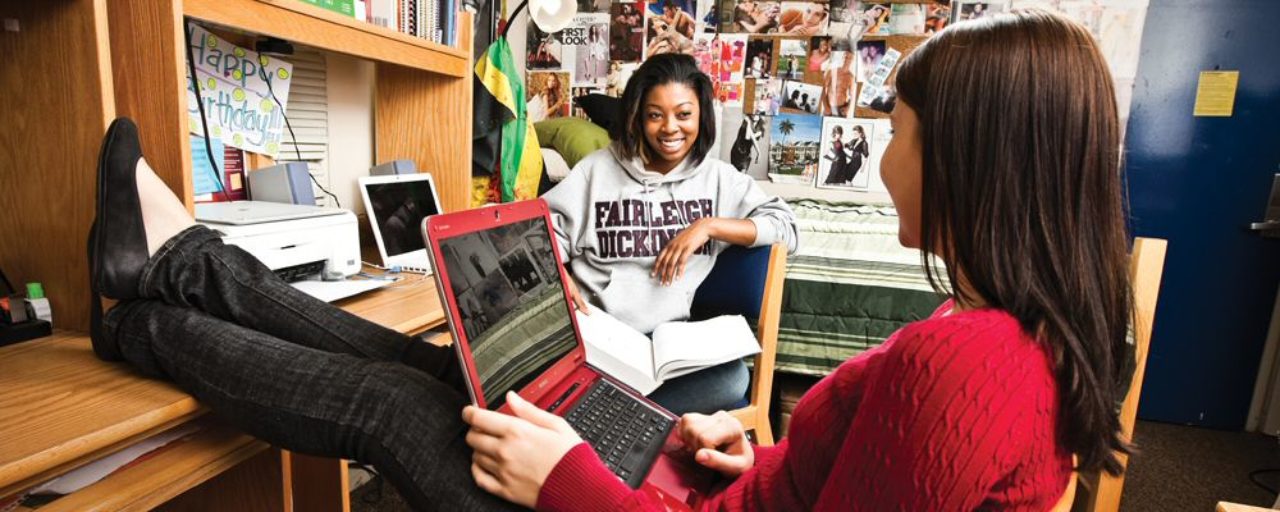 For most students, living on campus is one of the most memorable and fulfilling parts of their college experience. For many, it marks the first time they've lived on their own, away from family and friends. At the Florham Campus, three of every four undergraduate students choose to live in the University's residence halls.
Twombly Halls, which usually house first-year students, are two traditional-style residence halls, coed by floor, with double rooms and common bathroom facilities. Students give high grades to the extra-spacious rooms in the Twomblies. The Village features nine suite-style buildings; each has six-person suites with a common living room and bathroom and two or three double bedrooms. Coed by suite, The Village is fully air-conditioned. The Park Avenue Residence Halls have four-person suites, each with its own living room. The Rutherford Residence Hall offers independently climate-controlled double rooms each with private bath.
The residence halls feature:
Free weekly housekeeping services in the common areas
Free laundry facilities
Wireless and Ethernet links to the campus network
Access to cable television link-ups in each room
All residence halls contain smoke-free rooms. Resident students are permitted to have cars on campus. Free parking is available in lots near the residence halls. Incoming Florham Campus freshmen students, residing on campus, will have the ability to apply for a parking permit. Approved freshmen students will be allowed to park in a designated area in residence parking lot #3, located in the rear of Park Avenue residence hall nearest to Hamilton Park conference center.
Each residence hall floor has a resident assistant (RA) who serves as an on-site counselor and resource for students. Your RA will plan activities to encourage you to meet and get to know other resident students. Examples might include white-water rafting, hiking excursions, skiing in the Poconos, shopping at area malls and discount outlets, a skirmish weekend (paint-ball) or a semi-formal dance.
Overnight guests are permitted on campus, but they must be registered for each night's stay. The residence halls have card-access doors, security cameras and campus security regularly inspects campus grounds and facilities.
Near the residence halls, you'll find a variety of outdoor courts and playing fields for a casual game or two. They include a volleyball pit as well as lighted basketball courts and softball field for evening play.
Fairleigh Dickinson University's Florham Campus residence halls house nearly 1600 undergraduate and graduate students. The traditional lock and key have given way to card access, similar to the technology found in most hotels. Students simply use their student identification card to access the main building doors as well as their room door.
Contact Information
Campus Housing Office
285 Madison Avenue
M-SCO-02
Madison, NJ 07940