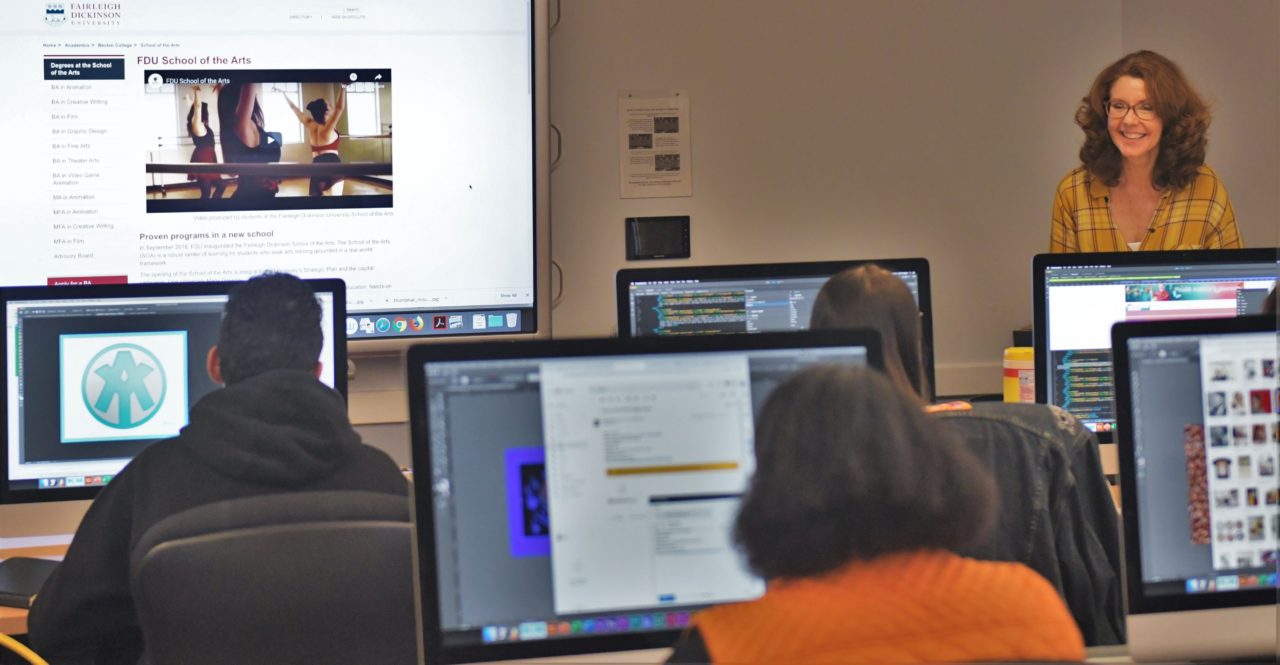 The graphic design major provides individuals with the opportunity to learn the
skills, principles and latest industry-standard tools needed to prepare for a wide
variety of careers in the graphic design industry. The courses focus on the art of
communication and problem solving through the use of type, space, visual
imagery and computer software. This rigorous curriculum merges creative visual
aesthetics with modern technology, which is necessary for mastering print, illustration or web media production.
Completion of this program will result in a Bachelor of Arts in graphic design
with a concentration in illustration, print design or web design awarded by Fairleigh
Dickinson University. Admission decisions are made in accordance with criteria, policies and procedures established by FDU.
Students must maintain a grade point ratio of 2.00 in their courses at FDU subsequent 
to admission.
Requirements for the Bachelor of Arts Degree
Illustration Concentration
Illustration allows for a personal style, giving students a competitive edge in their
design careers. The illustration concentration gives students the opportunity to
develop their abilities in a wide range of marketing, advertising and editorial-art
arenas, through the development of critical-thinking skills in visual communication. Students will learn a variety of digital
and real-media techniques, with an emphasis on design principles and concept development.
Print Design Concentration
The print design concentration teaches the creative process of producing visual communications and presentations in order to
convey a specific message to a targeted audience, specifically intended for printing.
The most common types of print-design products are publications, brochures, business cards, posters, product labels and
packaging.
Web Design Concentration
The web design concentration encompasses a variety of skills in the design and production of websites and other internet
products including interface design, authoring and coding through the use of
proprietary software. Students study how websites work in order to produce the
front-end user interface as well as developing the functionality, navigation and interactivity of web-based products.
 Concentration Electives (12 credits) 
 Choose from the Following: 
   CGD 1050
   Creative Concept Drawing
   CGD 1552
   The Digital Children's Book
   CGD 2213
   Visual Principles in Design
   CGD 2214
   Digital Prepress
   CGD 2215
   Editorial Design and Illustration
   CGDH 2216
   Design for Social Responsibility
   CGD 2243
   Prelude to Publishing
   CGD 2370
   Print Layout
   CGD 3300
   Illustration: Special Topics
   CGD 3351
   Illustration Design
   CGD 3352
   Typography 2
   CGD 3355
   Logo and Package Design
    CGD 3363
    Interactive Publishing
   CGD 3360
   Freelance Practices
   CGD 3361
   Mobile Web Design
   CGD 3362
   MobileDesign
   CGD 3370
   Computer Illustration & Design
   CGD 3373
   Email Blast Design and Implementation
   CGD 3374
   Online Ad Design and Implementation
   CGD 3380
   Social Media Marketing Design
   CGD 3385
   Ecommerce Design
    NOTE:
   Six credits in Internship experience may be used
   to fulfill Major Elective requirements.
   CGD 4422
   Graphic Design Internship I
   CGD 4423
   Graphic Design Internship II
   CGD 4900
   Faculty/Student Research I
   CGD 4901
   Faculty/Student Research II
Concentrations
We offer three areas of concentration; Print Design, Web Design and Illustration.
The Print Design Concentration places a strong emphasis on concept development, technical skills, and aesthetics, in problem solving.
The Web Design Concentration blends technical skill with design expertise, preparing students for a variety of careers in the interactive industry.
The Illustration Concentration allows students to focus on developing a personal style, while practicing their craft.  Imagination and experimentation are encouraged, as students learn technique in traditional and digital media.
All programs emphasize individual discovery, as students work on collaborative projects that are showcased in a variety of exhibits and displays at the University.  Career and freelance skills are taught in upper level classes. No matter which concentration is chosen, all three instill the creative, technological and philosophical skills necessary to be competitive in today's market. Creativity and concept are key in the FDU Design Programs.