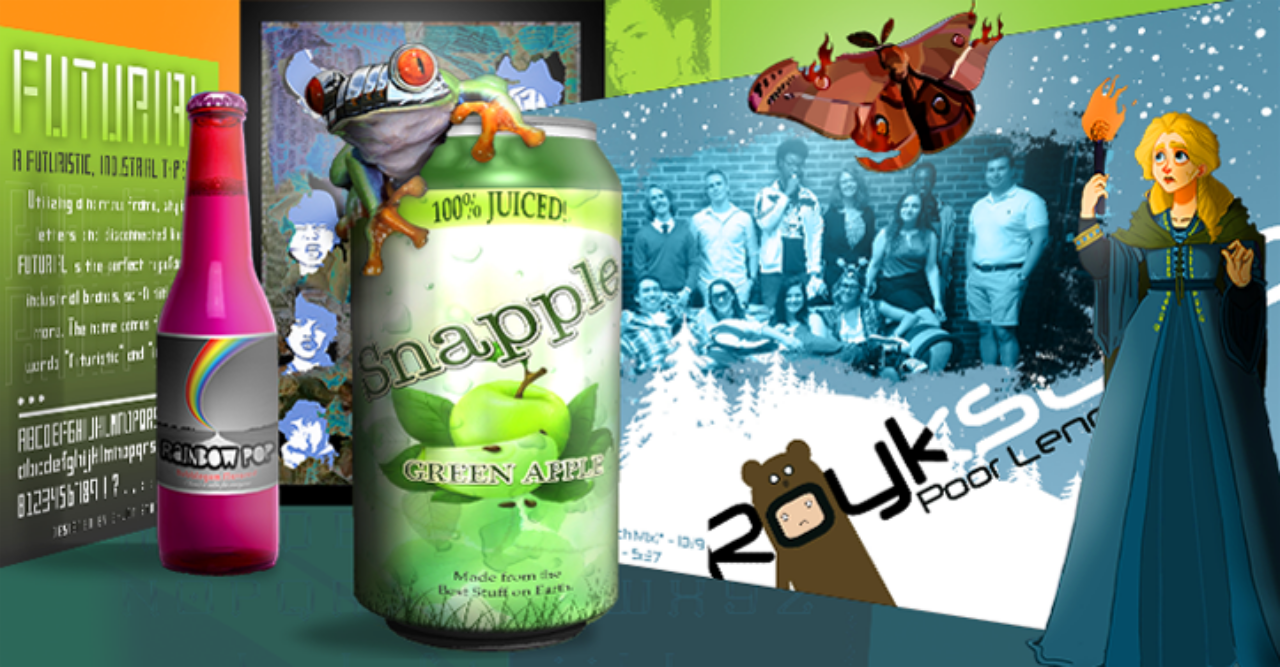 The Fairleigh Dickinson University Graphic Design Program focuses on career goals from freshman year, helping students learn to succeed as a designer while developing a strong business foundation through a combination of talent, creativity, and education. Coursework in this discipline includes design theory, art history, and the study of industry-standard computer software packages like Adobe Creative Cloud. 
At FDU, our goal is to provide the skills necessary to gain successful employment in the graphic design field. In this discipline, a diploma alone is not enough. Upon graduation, our students display their creativity and originality through a portfolio and websites that feature their most flourishing designs – a requisite for going on any professional print design interview.
Our robust liberal arts curriculum encourages the exploration of diverse cultures, refining communication, and critical thinking skills that are necessary for this profession. Students develop strong verbal and visual communication skills along with the ability to work well under tight deadlines. Our diverse liberal arts courses teach the communication, critical thinking, management, and organization skills needed to interact well with others within the workplace. 
Students showcase their work through a variety of exhibits, contests, and social media explorations, thereby gaining recognition for their achievements. The FDU Design Studio allows students to gain real-world experience as they work for real clients. 
The possibilities at FDU are endless. 
Concentrations
We offer three areas of concentration: Print Design, Web Design, and Illustration.  Students can focus on one, or double up on their concentrations for additional skills.
The Print Design Concentration places a strong emphasis on concept development, technical skills, and aesthetics, in problem-solving.
The Web Design Concentration blends technical skill with design expertise, preparing students for a variety of careers in the interactive industry.
The Illustration Concentration allows students to focus on developing a personal style while practicing techniques in both traditional and digital media.
All concentrations emphasize individual discovery, career plus freelance skills, and creativity.
Print Design Concentration

Print designers help organizations in becoming recognizable through branding, typography, color, images, and logo designs that portray a particular idea or identity which are utilized in marketing and promotional materials such as product packaging, brochures, ads, advertising and marketing campaigns, publishing, public relations, and other related materials.
Illustration Concentration

The Illustration Concentration allows students to focus on developing a personal style while finding their passion through concept development and practicing excellence.  Imagination and experimentation are encouraged while students learn techniques, traditional and digital media, and attention to detail.  Our students are encouraged to enhance their artistic skills by taking courses in drawing, color theory, photography, painting, and sculpture.
Web Design Concentration

Web design encompasses the creative process in developing the front-end visuals of a website that work for its target market. It involves both the aesthetics and the mechanics of a website's operation. At FDU our courses focus on visual creativity and originality while targeting universal UX/UI design concepts. While web designers are responsible for the visual aspect, they also need to have a working knowledge of a variety of scripting languages such as HTML, CSS, JavaScript, PHP, and Adobe Animate and After Effects. In our courses, we teach all these skills while studying browser/server compatibility.
Contact Information
Janet O'Neil