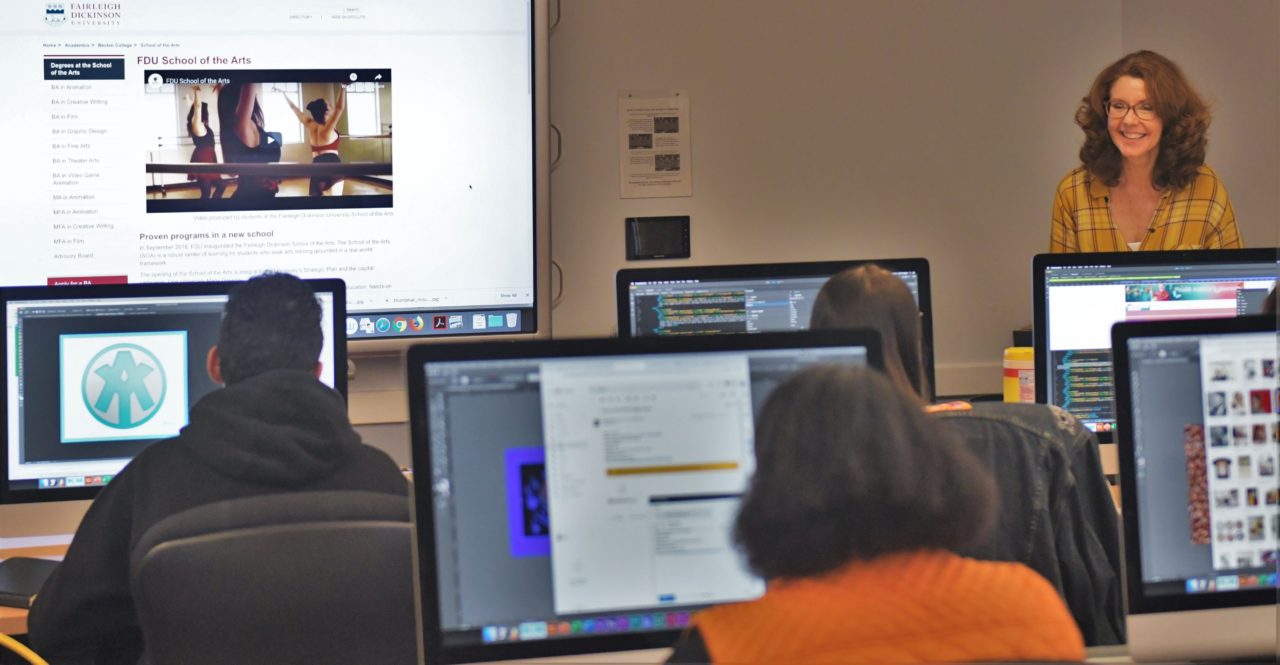 The Fairleigh Dickinson University Graphic Design Program believes in their students as complete designers. They are artists, writers, typographers, illustrators, and entrepreneurs. Students learn to succeed as a designer while developing a strong business foundation for their careers.
Concentrations
We offer three areas of concentration; Print Design, Web Design, and Illustration.
The Print Design Concentration places a strong emphasis on concept development, technical skills, and aesthetics, in problem-solving.
The Web Design Concentration blends technical skill with design expertise, preparing students for a variety of careers in the interactive industry.
The Illustration Concentration allows students to focus on developing a personal style while practicing their craft.  Imagination and experimentation are encouraged, as students learn techniques in traditional and digital media.
All programs emphasize individual discovery, as students work on collaborative projects that are showcased in a variety of exhibits and displays at the University.  Career and freelance skills are taught in upper-level classes. No matter which concentration is chosen, all three instill the creative, technological and philosophical skills necessary to be competitive in today's market. Creativity and concept are key in the FDU Design Programs.
Print Design Concentration
Successful and engaging print design is essential to any company because of its use in marketing and advertising. Print designers create visual concepts to communicate ideas that inspire and inform consumers through such products as logos, product packaging, brochures, newspaper and magazine ads, advertising and marketing campaigns, publishing, public relations, and other related materials. The end result aids in selling a product or idea through effective visual communication. Print designers help organizations in becoming recognizable through branding typography, color, images and logo designs that portray a particular idea or identity which are utilized in marketing and promotional materials.
Becoming a strong print designer requires a combination of talent, creativity and education. Coursework in this discipline includes design theory, art history and the study of industry-standard computer software packages such as Adobe Illustrator, Adobe Photoshop, and Adobe InDesign.
Before any computer elements are applied to a product or campaign, the designs are conceptualized and developed by means of traditional visual art skills. Our students are encouraged to enhance their artistic skills by taking courses in drawing, color theory, photography, painting, and sculpture. Designers are also required to create materials that appeal to certain demographics and ethnicities. Our robust liberal arts curriculum encourages the exploration of diverse cultures, refining communication, and critical thinking skills that are necessary for this profession.
At FDU, our goal is to provide the skills necessary to gain successful employment in the graphic design field. In this discipline, a diploma alone is not enough. Upon graduation, our students display their creativity and originality through a portfolio that features their most flourishing designs – a requisite for going on any professional print design interview.
Illustration Concentration
The Illustration Concentration allows students to focus on developing a personal style while practicing their craft.  Imagination and experimentation are encouraged, as students learn technique, traditional and digital media, and attention to detail.  Students learn to see themselves as designers and artists.
Trends in drawing, art, and design are taught, helping students find their passion in illustration, through concept development and practicing excellence, through a variety of exhibits, contests, and social media explorations, illustrators can showcase the projects they develop, thereby gaining recognition for their achievements.
Students have an opportunity to illustrate for a variety of important social causes throughout their time at FDU.  Creating powerful imagery that addresses critical social issues is an important focus in our program.   Designers can learn to use their work to increase public awareness of a variety of social issues, across the globe, as well as on an individual basis.
The FDU Design Studio allows students to gain real-world experience as they work for real clients. The possibilities at FDU are endless.
Web Design Concentration
Web design encompasses the creative process in developing the front-end visuals of a website that work for its target market. It involves both the aesthetics and the mechanics of a website's operation. At FDU our courses focus on visual creativity and originality while targeting universal use and ease of access to provide information to as many users as possible. Our students learn to use industry-standard software in creating graphics and web pages that conform to today's standards.
While web designers are responsible for the visual aspect,  they also need to have a working knowledge of a variety of scripting languages such as HTML, CSS, JavaScript, PHP, and Flash. In our courses, we teach all of these skills while studying browser/server compatibility. Since computer technology changes rapidly, our faculty works constantly in learning about new developments in current software packages and related technologies such as Dreamweaver, Photoshop, Adobe Illustrator and Flash.
Because web designers often work closely with clients, consumers and project managers, they must have strong verbal and visual communication skills along with the ability to work well under tight deadlines. Our diverse liberal arts courses teach the communication, critical thinking, management and organization skills needed to interact well with others within the workplace.
Students can gain experience in working for real-world clients on and off-campus through the FDU Design Studio.
Contact Information
Janet O'Neil