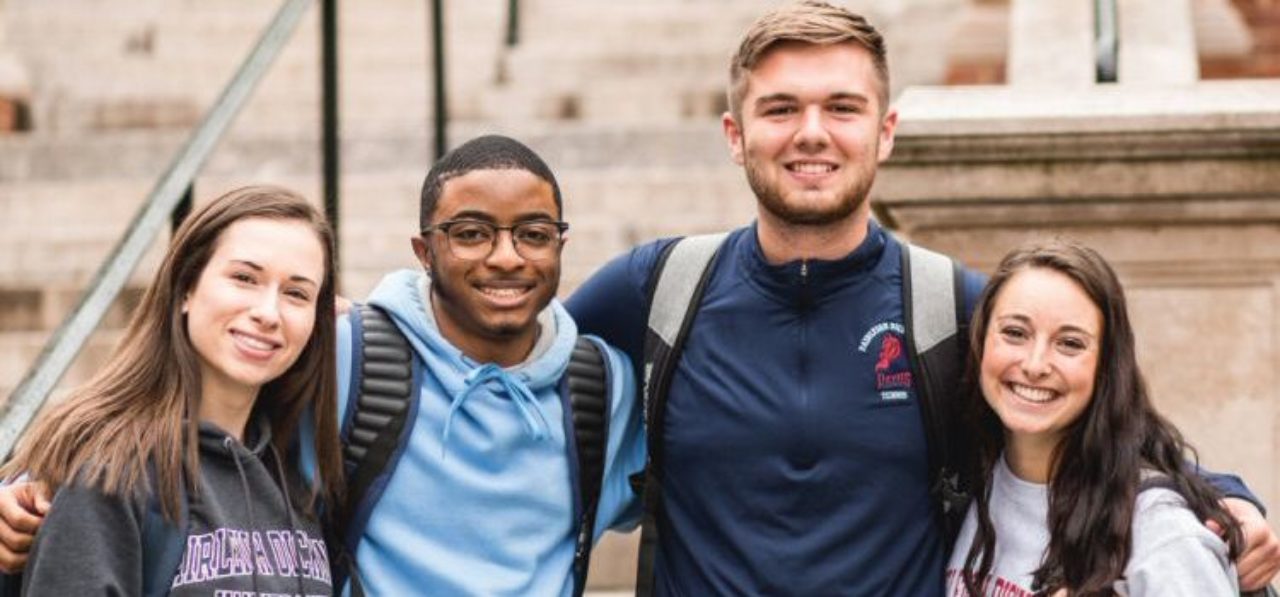 Congratulations!
Welcome to FDU's Florham Campus
We're proud to welcome you to Fairleigh Dickinson University!
The Florham Campus is home to the Division III Devils and a variety of campus life activities which will enhance your FDU experience. Located in historic Madison, New Jersey, we are 35 miles from New York City and offer a wide range of shops, restaurants, and outdoor activities.
FDU New Student Guide at Florham
Check out our New Student Guide designed with you in mind! Learn about student life, excelling at FDU, and what it's like to be an FDU Devil all in one place.
Use this checklist to join FDU and go for what you love!
Apply for Financial Aid

If you have not done so already, be sure to complete and submit the Free Application for Federal Student Aid (FAFSA). Go to fafsa.gov and use the Florham Campus code: 004738.

If you have any questions, or would like to set up an appointment, call the Office of Financial Aid at 973.443.8700.  

University Honors Program  

High-achieving students interested in additional academic opportunities and special programming, can apply for the University Honors Program by filling out the form here.  

Activate Your FDU NetID

Look out for an email inviting you to activate your FDU NetID. Use your FDU NetID to log into WebAdvisor, our student self-service portal, to review your Financial Aid Offer Letter. For inquires about activating your FDU NetID, contact the University Technical Assistance Center at fdutac@fdu.edu or 973-443-8822.

Submit Your Deposit

Once you are ready, submit your $200 tuition deposit, and an additional $350 housing deposit if you plan to live on campus.

Submit your deposit and follow the instructions to officially join FDU!

Register for New Student Orientation

After submitting your deposit, use your FDU NetID to register for New Student Orientation! This experience will give you the opportunity to meet your classmates, learn about the FDU and Florham Campus culture, and discover everything you need to know about being a college student! If you have any questions, please contact the us at  973.443.8570 or florhamDOSOffice@fdu.edu.  

Complete Your Housing and Meal Plan Application

Once available, complete your online Housing and Meal Plan Application if you are planning to reside on campus. Use your FDU NetID to access the housing application. If you have any questions, feel free to contact the Housing Office at 973.443.8586 or fduhousing@fdu.edu.

Submit Your Health Forms

New Jersey state law requires all students to provide proof of immunizations to the University's Student Health Services Office before they can register for classes or check into the residence halls. Please visit our Student Health Services page for the required health forms and instructions on how to submit them. Contact the Student Health Services Office at 973.443.8535 if you have any questions.

Disability Services and Academic Support Center

Admitted students can request accommodations by submitting a new student request form using their FDU NetID. The form is available here. Appropriate documentation can be faxed to 973.443.8080 or mailed to:

Fairleigh Dickinson University
285 Madison Avenue, M-MO1-01
Madison, NJ 07940

If you have any questions, contact the Office of Disability Services at 973.443.8079.

Send Your Final Transcripts or GED

A final high school transcript showing proof of graduation is required from your school counselor. 

Your school counselor can submit your official transcript to the Office of Admissions at myapp@fdu.edu or mail it to:

Fairleigh Dickinson University
Office of Admissions
1000 River Rd., H-DH3-10
Teaneck, NJ 07666

If you have earned a GED, please submit an official copy to the Office of Admissions. 

Submit Your AP, IB and College Credits

Final testing results for Advanced Placement (AP), International Baccalaureate (IB) and final, official transcript(s) should be sent to the Office of Admissions. All results will be evaluated by academic advisors to determine transferable credits. Contact the Office of Admissions if you have any questions.

Submit Your Middle College Credits

Students who participated in Fairleigh Dickinson's Middle College Program during high school can request their Middle College Transcripts here. Please submit your Middle College Transcript to the Office of Admissions.