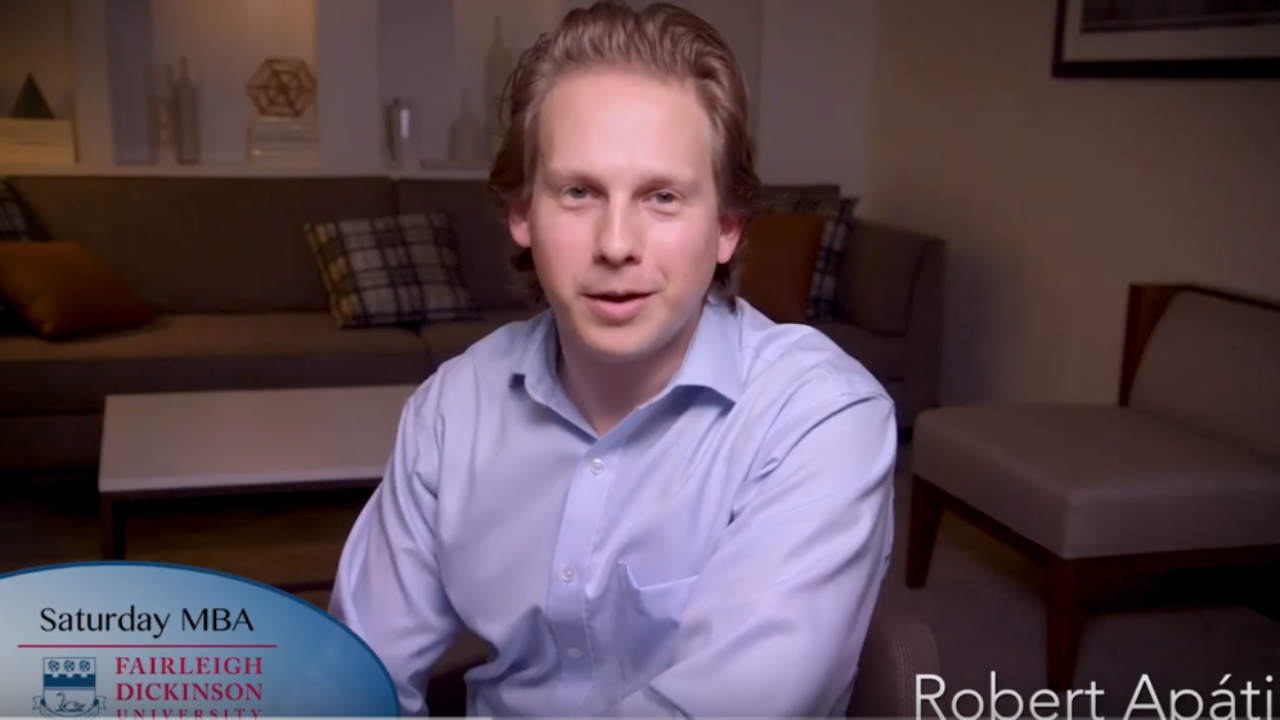 Saturday MBA
An MBA in Under 21 Months!
Offered through Silberman College of Business, the Saturday MBA at FDU lets you successfully balance work, classes and personal life as you focus on the next step of your career.
A balanced blend of online and face-to-face classes
Earn your degree in less than 21 months — even without a business background
Face-to-face sessions every other Saturday (on average)
Work without career interruption while earning your degree
Competitively priced
Program Highlights
The Saturday MBA at FDU's innovative design features the structure and convenience you want —  and the focus you need to be competitive in the marketplace.
Fast and Flexible
Earn your degree in less than 21 months — without career interruption
Take up to three 2-credit classes every eight weeks.
Complete your MBA in 30 to 42 credits  (Students who majored in business can waive up to 12 credits in foundation courses)       
High Tech/High Touch, Team-Based Learning
In-class sessions are coupled with interactive online learning
Cohort-based classes emphasize close personal interaction and close faculty support
In-Class Sessions Exclusively on Saturdays
Saturday classes at FDU's College at Florham (Madison, NJ) will run from 8:30 a.m. to 5 p.m.
These sessions will be scheduled every other Saturday (on the average)
Meet and get to know your professors and classmates in a personalized learning environment.
Online Sessions
Online class sessions let you study at a convenient place and time. Your online studies will include:
Relevant reading materials
Web-based presentations
Interactive discussions with your professors and classmates
Online quizzes and/or assignments
What You'll Learn
As a student in the Saturday MBA at FDU program, you will:
Acquire fundamental business knowledge, management skills and decision-making tools
Be exposed to leading-edge strategies and concepts in the business world today
Broaden your perspective and develop your ability to lead, manage, and communicate more effectively in virtually any business setting
Develop networking relationships with your colleagues in the cohort, as well as with the large body of Silberman College of Business alumni
NOTE: Students interested in deepening their expertise in a specific discipline after completing the Saturday MBA at FDU can pursue a post-graduate certificate in such areas as accounting, finance, or marketing.
Curriculum and Schedule
How the Program Works
The Saturday MBA at FDU Consists of 42 Graduate Business Credits in the Following Areas
Foundation Courses (12 credits)
Core Courses (18 credits)
Discipline Enrichment Courses (10 credits)
Capstone (2 credits)
You'll earn 10 credits in two 8-week modules during the fall and spring semesters, and four credits each summer. Cohort-based classes will begin twice a year, in late August and late January.
Discipline Enrichment Courses provide students with an in-depth treatment of specialized business topics across different disciplines.  The selected topics enable students to develop a more comprehensive understanding of the contemporary challenges and opportunities confronted by organizations, such as global business trade and management, sustainability, change management, and business research and analysis.
In the Capstone Course, students work as individuals or as a group under the guidance of the assigned faculty advisor. You'll have the opportunity to conduct research, gather relevant data, and integrate and apply knowledge and skills learned in preceding courses, to develop a comprehensive understanding and to formulate a coherent strategic response in addressing the opportunities and challenges that increasingly confront organizations.
Already Hold an Undergraduate Business Degree?
Based on your undergraduate business degree and grades earned, you may be exempted, in all or in part, from the 12-credit Foundation courses (See Modules 1 and 2 below).
Don't Have a Background in Business?
The following schedule is for students with no previous business background who must complete the full 42-credit program.
Convenience: Course Both In-Person and Online
Saturday Class Schedule: Weeks 1, 2, 4, 6 & 8
All-day Saturday classes are held at FDU's Florham Campus every other Saturday (on average).
Course 1 — 8:30 PM – 11:00 AM
Course 2 —  11:10 AM – 2:20 PM
Lunch — 12:20 PM – 1:05 PM
Course 3 — 2:30 PM – 5:00 PM
Online Schedule:  Weeks 3, 5 & 7
Admission Requirements
As part of your application to the Saturday MBA at FDU program, you will need to provide:
Your bachelor's degree from a regionally accredited college or university
Official college transcripts from all institutions where you earned any undergraduate or graduate credits
Your official Graduate Management Admission Test (GMAT) or Graduate Record Exam (GRE) results. Test must have been taken within the last five years.
A current résumé
Completion of the FDU Graduate Application for Admissions 
Tuition Information
The Saturday MBA at FDU features preferential tuition. For tuition and fees, please visit the tuition and fees webpage and scroll down to Saturday MBA. 
To speak with an Admissions Counselor, call (866) 998-2299 or email grad@fdu.edu