Global Opportunities Program for International Transfer Students
BA Degree Completion + Masters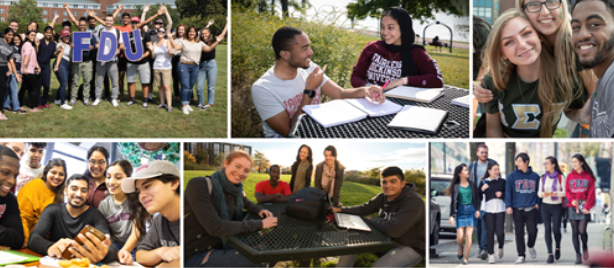 FDU's Bachelor of Arts degree completion program (also known as the Bachelor of Arts in Individualized Studies or BAIS) is an innovative, flexible, and customizable academic major structured to meet the educational needs of mature and self-motivated students who have already earned college credit at another institution. Students may transfer up to ninety credits from their home institution while a minimum of 30 credits must be taken while in residence at FDU. As a result, it is ideally suited to meet the educational goals of overseas students who have already earned a three-year undergraduate degree who are interested in earning a four-year bachelor's degree before applying for postgraduate study or optional practical training (paid work experience).
The Bachelor of Arts degree completion program emphasizes liberal arts learning outcomes and "soft skills" that are often neglected in more specialized degree programs. However, the Bachelor of Arts degree completion program also allows students to pursue an area of specialized study that matches their professional goals and plans for postgraduate study, either by taking multiple courses in a single academic discipline or by combining courses from multiple disciplines into a coherent plan of study.
Communication:  An FDU graduate will demonstrate the ability to communicate effectively in written documents, when making oral presentations, and when appropriate, by using graphic presentation software.
Critical Thinking:  An FDU graduate will demonstrate the ability to define problems; to use information resources such as libraries and computers; and to analyze and integrate knowledge, perspectives, and techniques.
Global and Culture Understanding: An FDU graduate will demonstrate an understanding of the historic and global context of events and achievements over time as treated in subjects such as history, the arts, and the humanities with an awareness of and sensitivity to global problems and social issues, including those involving ethnic and cultural differences.
Specialized Knowledge: An FDU graduate will demonstrate the mastery of a body of knowledge in one subject area or a group of related areas that will be considered the graduate's specialization.
The minimum requirements for the baccalaureate degree are as follows:
completion of a minimum of 120 credits.
cumulative grade point ratio of 2.00.
cumulative grade point ratio of 2.00 in the upper-level courses completed at FDU.
upper-level credit courses: of the courses completed at FDU 24 credits (eight courses) must be upper-level.
at least 30 credits, normally the last 30, must be completed at FDU.
Transfer Credits/Remaining Requirements for Bachelor of Arts
If your home institution is one of FDU's official transfer partners, and you have followed your standard curriculum, your transfer credits and remaining requirements are determined by the articulation between FDU and your home institution.  If your home institution is not one of FDU's official transfer partners, your transfer credits and remaining requirements will be determined by evaluation of your academic transcript(s).
Features and Benefits
Earn a Bachelor of Arts (BA) from FDU in as little as one year (3+1) by transferring up to 90 credits from your home institution.
Earn a bachelor's degree from your home university, a Bachelor of Arts (BA) from FDU, and an MBA, MPA, MS or MA from FDU in as few as 5 years (3+1+1 or 3+1+1.5).
For students earning a three-year degree from their home institution, the GOP program serves as a value-added bridge program for postgraduate study.
Mix and match your major from your home institution with a BA and a postgraduate degree for a winning combination of knowledge and skills.
Generous undergraduate scholarships and grants available to qualifying students.
Enjoy a unique international experience at FDU's Metropolitan Campus or Florham Campus, both located a short distance from New York City.
Take advantage of Curricular Practical Training (CPT) and Optional Practical Training (OPT) opportunities in the New York metropolitan region.
Flexible English language requirements with option to enroll in FDU's proprietary English for Professional Success (EPS) program.
Contact FDU Office of International Admissions: global@fdu.edu
Tuition, Scholarships, Other Costs
Undergraduate students are eligible for international transfer scholarships of up to $16,000 which are awarded based on academic merit and are renewable based on continued full-time enrollment. Undergraduate students choosing to live on campus also receive a housing grant of $3,000 per year.
All FDU charges, including tuition and fees for undergraduate and postgraduate programs, are subject to annual increases, typically announced in July of each year.
Additional costs such as room and board, medical insurance, visa, travel, books, personal expenses, etc., are not included in the cost of tuition and fees.
Pre-Transfer English Study
Students may improve their academic and professional English skills by completing FDU's proprietary English for Professional Success (EPS) courses on-line prior to applying for transfer.
In addition to academic English skills, the program introduces students to advanced learning strategies to ensure success in university-level courses taught in English, as well as communication topics and skills relevant to students entering the workforce.
Successful completion of EPS 1008 Academic Writing Skills (3 credits) and EPS 1018 Workshop in Academic Communication Skills (1 credit) replaces standardized
English test scores for international transfer applicants.
Postgraduate Options
Accelerate completion of an MBA, MPA, MS or MA degree at FDU by taking postgraduate courses while you are still an undergraduate. Time to degree completion will depend upon the number of credits required by your choice of master's program.  Options include:
Administrative Science (MAS)
Accounting (MBA)
Accounting (MS)
Biology (MS)
Chemistry (MS)
Computer Engineering (MS)
Computer Science (MS)
Cosmetic Science (MS)
Criminal Justice (MA)
Cyber and Homeland Security (MS)
Cybersecurity and Information Assurance (MS)
Electrical Engineering (MSEE)
Electronic Commerce (MS)
Finance (MBA)
Global Affairs (MA)
Hospitality Management Studies (MS)
International Business (MBA)
Management (MBA)
Management Information Systems (MS)
Marketing (MBA)
Pharmaceutical Management Studies (MBA)
Political Science (MA)
Psychology, General/Theoretical (MA)
Psychology, Industrial/Organizational (MA)
Public Administration (MPA)
Sports Administration (MSA)
Student Services Administration (MA)
Supply Chain Management (MS)
Teaching English as a Second/Foreign Language (MA)
FDU Admission Requirements and Processes
Students interested in participating in the FDU Global Opportunities Program should apply to FDU for international transfer admission at least six months prior to the start of the desired study period.
Requirements for admission to the undergraduate BA degree completion program and conditional admission to a postgraduate program:
Enrollment in good standing at your home institution
At least 60 credits completed at your home institution
Minimum grade point ratio (GPR) of 2.00
Requirements for final admission to a postgraduate program:
Completion of FDU bachelor's degree
Contact Information
Inquiries from China
Mr. Dan Plaut
Executive Director, China Office
Chengdu, PRC Email: dplaut@fdu.edu
WeChat: DSP-62211881132
Inquiries from countries other than China
Ms. Gayathri Attiken
University Director, International Enrollment Management
New Jersey, USA
Email: global@fdu.edu
Voice: +1 (201) 692-2205