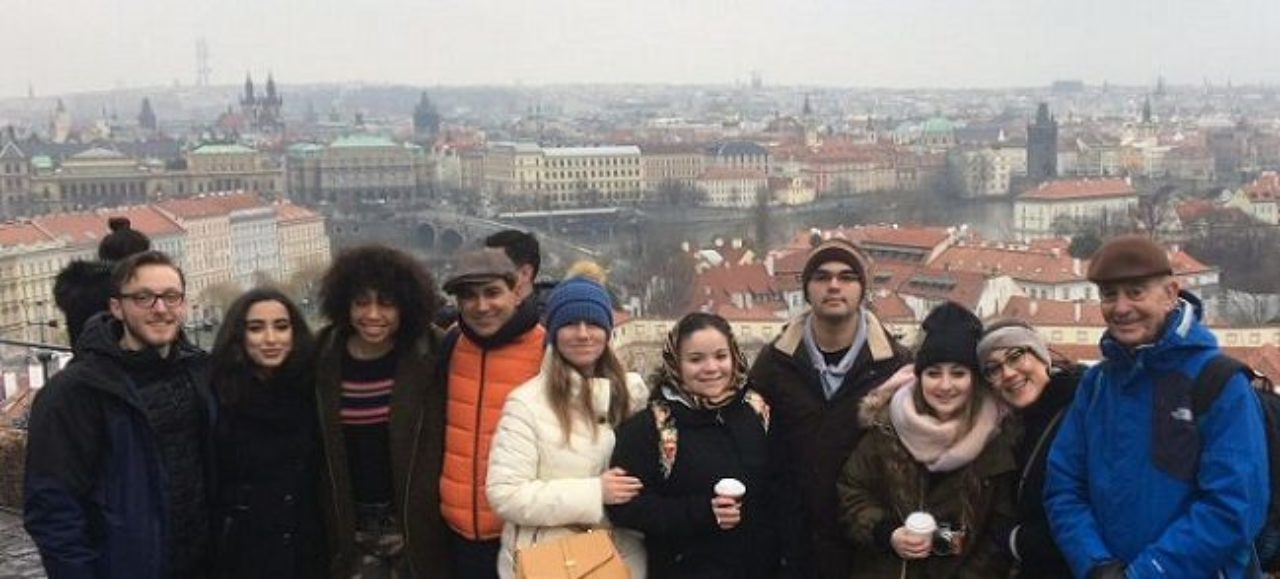 Global Scholars was inspired by Fairleigh Dickinson University's founding mission as an institution that is "of and for the world." As a Global Scholar, you will be part of a distinctive community committed to developing a global perspective. The Global Scholars Program at Fairleigh Dickinson University is a shining example of the University's commitment to excellence in global education.
Apply Online to Global Scholars
The Global Scholars (Metro Campus) have rolling admissions.
The extraordinary Global Scholars Program at the Metropolitan Campus is ideal for students seeking more extensive knowledge and diverse perspectives on the world beyond our borders. Our students are distinctive because of their high academic achievement and self-motivation.
By fostering an atmosphere that emphasizes creativity and experiential learning, the Global Scholars Program develops strong bonds between like-minded students, as well as between students and the exceptional faculty members who teach them and become their mentors.
As a student in the Global Scholars Program, you will receive a multifaceted education designed to help you reach your full potential and prepare you to become
a global leader with the ability to make a difference in the lives of others.
The four-year selective Global Scholars Program is an organized and integrated course of study that combines intensive academic multi-disciplinary learning environments with a cross-spectrum of cultural living experiences on and off campus. Beginning with the freshman year, Global Scholars participate in domestic and international experiential learning including:
United Nations Visitation with opportunities for private briefings and internships
Lectures and receptions with ambassadors and international scholars
Participation in a variety of cultural and artistic events and visits to museums
Participation in Winter Session co-curricular field experiences abroad
A Study Abroad Semester
Cultural dinners with Global Scholars community
There is no additional tuition for the credit-bearing co-curricular field experiences and the Study Abroad Semester. However, costs of travel, living expenses and fees are the responsibility of the Global Scholar.
Global Scholars reside in the Global Scholars Residence Hall, providing them with a supportive, culturally diverse environment that encourages dialogue and the exchange of ideas and fosters personal contacts. Living facilities feature a kitchen area and online accessibility in every room.
Program Features
Lectures and events with international scholars and ambassadors
Numerous cultural and artistic activities on and off campus
International immersion during short-term or semester-long study-abroad experiences
Regular visits to the United Nations with exclusive opportunities for private briefings and internships
3 Credit Academic Requirement of Global Scholars Seminar (POLS2219) instructed by Dr. Samuel Raphalides, Program Director
Global Scholars Housing
Global Scholars are provided the option to reside in Global Scholars Hall (University Court 4) beginning in their freshman year. This culturally diverse and supportive living/learning community encourages the exploration of different perspectives and the thoughtful exchange of ideas.
Contact us
Dr. Sam J. Raphalides
Global Scholars Director
201-692-2413
sjraph@fdu.edu

Marisela Rivera
Assistant Director for Global Engagement
201-692-7362 / 973-443-8083
m.rivera1@fdu.edu
Office Locations
Metro Campus
1000 River Road, T-RA2-01
Teaneck, NJ 07666
Contact Information
Global Scholars Director
Dr. Sam J. Raphalides
Global Scholars Director
Metropolitan Campus
1000 River Road, T-RA2-01
Teaneck, NJ 07666