Students First
New Fundraising Initiative Announced at Charter Day Dinner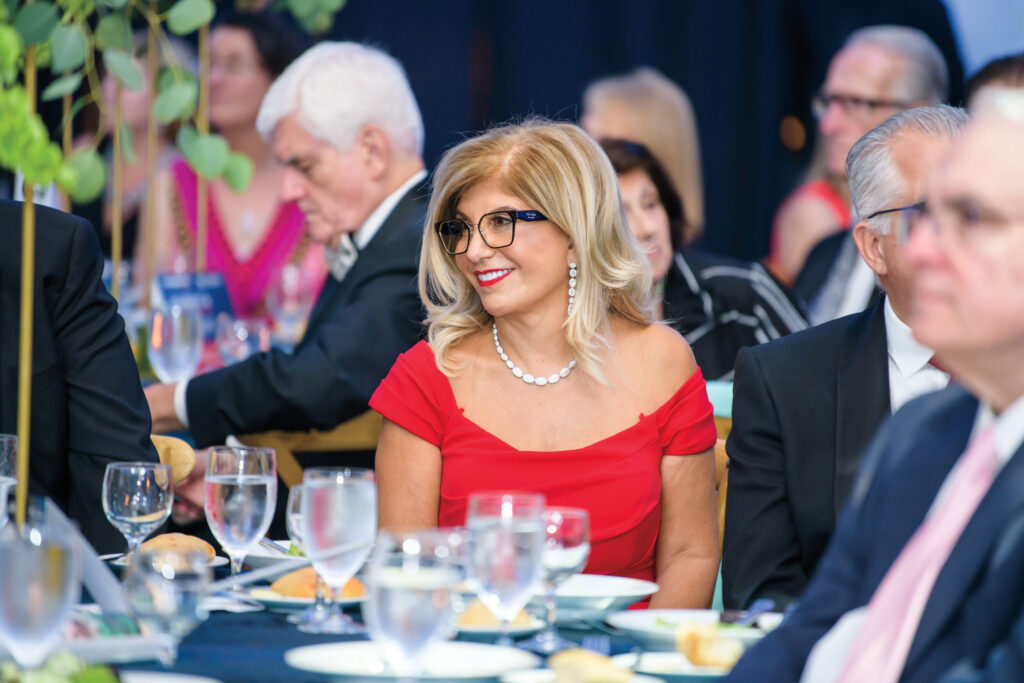 "Our students are, and must always be, our North Star," said President Michael Avaltroni. "Our next campaign, and our laser-like focus, must be on ways in which we can continue to forge student experiences and opportunities that have produced the remarkable graduates we are honoring tonight."
The gala event raised more than $700,000 toward that goal, and also celebrated outstanding alumni.
The Charter Day honoree, Micheline Nader, above, is an FDU trustee, author, healthcare entrepreneur, speaker and philanthropist. She is the founder and former CEO of Blue Dolphin Healthcare Group and is currently the president of Jesra Foundation, a nonprofit dedicated to creating breakthroughs in health and education. She chairs the Silberman College of Business Advisory Board.
Six alumni received The Pinnacle Award, which recognizes distinguished alumni.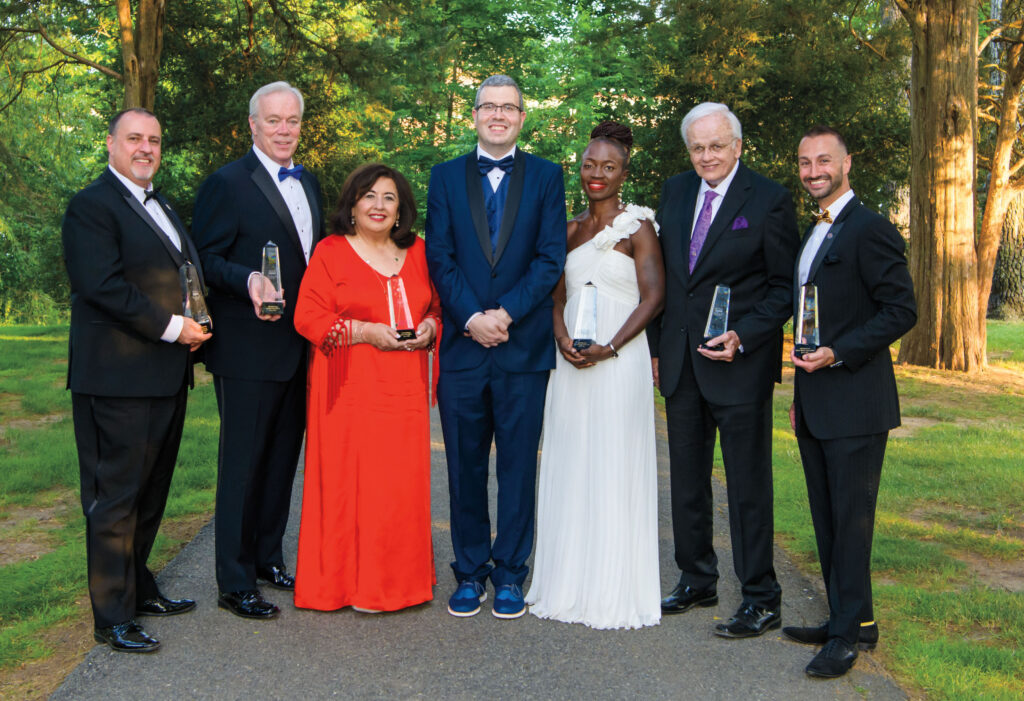 Pictured, from left, Patrick Kissane, BA'11, MAS'15 (Metro), retired deputy chief of police and operations commander of the Fort Lee Police Department and current director of school safety and security, as well as the harassment, intimidation and bullying coordinator for the Edison Township (N.J.) Public Schools; Timothy Gearty, BS'77 (Ruth), partner in Gearty & McIntyre, LLP, CPA and the national director and editor-in-chief for the Becker Gearty CPE; Maroa Velez, BS'77 (Ruth), partner and head of service delivery for BBH, encompassing operations and client service divisions; Adenah Bayoh, AA'99, BS'01 (Metro), owner of eight restaurants, including four IHOP franchises and four of her own design; Donald Schwamb, BS'62 (Metro), retired chief operating officer at Bogner, a manufacturer of high-end sports apparel, and a managing partner of a Callahan's Hot Dogs; and Robert "Bobby" Stern, BS'08 (Flor), president of Riviera Hospitality Group.
Student speakers were Florham Campus Student Government Association President Michelle Schultheis, a senior elementary education and creative writing major, and Division I Men's Basketball standout Demetre Roberts, a sport management graduate student.
---
Gift Supports Students Mental Health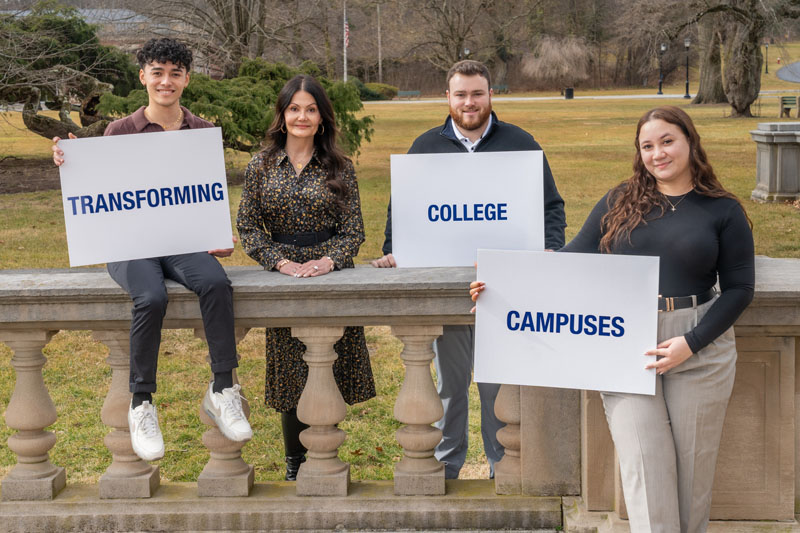 In an effort to support student mental health, Andrea Melchiorre, a student in the clinical mental health counseling master's degree program, above, and her husband, Anthony, have pledged a major gift to FDU to help fund the "Transforming College Campuses" (TCC), initiative.
"We are proud to partner with FDU on this transformational project," said Melchiorre, whose son Jake attends the Florham Campus. "We are confident that this program will provide students with unparalleled support in mental health and well-being, as well as the guidance to develop the personal skills necessary for young adults to successfully navigate college life and beyond."
Benjamin Freer, director of the School of Psychology and Counseling, said, "It has never been more crucial to develop effective and innovative educational, preventative and interventional approaches to college-student mental health."
The project will embed graduate students in a mandatory course for first-year students, Transition to University Life. The graduate students will then remain paired with the students in this course for their first two years at the University.
"Through this dynamic and unfolding relationship, the undergraduates will develop curiosity and enthusiasm about the mental-health area of study, while the doctoral students will develop expertise in college-student mental health," said Stefanie Ulrich, director for FDU's Center for Psychological Services.
---
Trinkle Ruzila Family Gift Benefits Students
A ribbon-cutting ceremony for the John Robert Ruzila and Marye Trinkle Ruzila Career Development Center, above, celebrated a $1.1 million endowed gift to FDU from "Aunt Marye."
Half of the gift will support the Career Center's programs and the Ruzila Awards for students in unpaid internships at nonprofits or community-serving organizations. Students may receive up to $1,000 to help cover transportation, wardrobe, materials and lost wages.
Rosemary Trinkle Baran, BS'83 (Ruth), said, "Aunt Marye and Uncle John were average students who had to work full-time to pay for college. Using the money for students who are working is perfect."
The other half of the gift endowed scholarships for Silberman College of Business students, inspired by Aunt Marye, one of the first few women to receive a BS in business management from the college.
A legacy family of graduates, John Ruzila, BS'56 (Ruth) married Marye Trinkle, BS'58 (Ruth), in 1959. Marye's brother George Trinkle III, BS'54 (Ruth), had four daughters who also attended FDU: Rosemary; Dianne Trinkle, BS'86 (Ruth); Kimberly Trinkle, BS'90 (Ruth); and Georgean Trinkle, BA'93, (Metro).
Trinkle Baran took office as president of the Alumni Association Board on July 1, 2023. A founding member of the Hospitality and Tourism Alumni Chapter, she also serves on the International School of Hospitality, Sports, and Tourism Management's advisory board and the School of Public and Global Affairs advisory board.