Seize the Moment and Change Your World
The Vision for a Renewed and Thriving University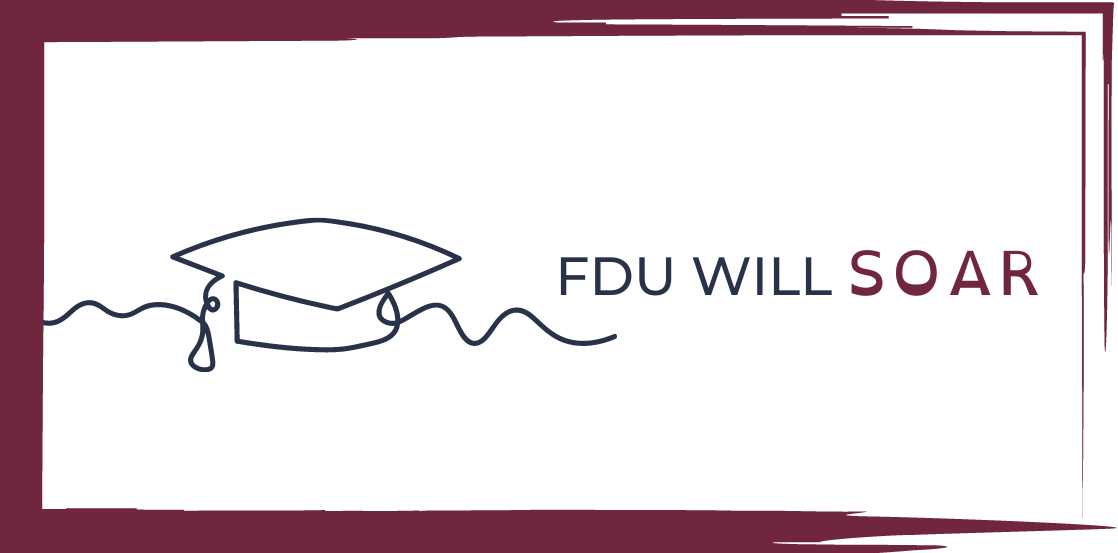 A thriving FDU distinctively recognizes, welcomes and supports students when, where and how they are ready to learn, propelling them to their futures.
In the spring, University President Michael Avaltroni led the development of a new strategic plan, FDU Will Soar, with a renewed emphasis on putting students first and prioritizing initiatives that will most significantly impact students.
"The way forward is to get higher education into the hands of more people, by meeting them where they are, providing them the tools to be successful and bringing them through to the finish line," he says. "Students have always been at the center of FDU's mission. Now it's time to formally declare that we have one clear institutional focus: Students First."
The higher education landscape has changed, student needs have evolved, and universities are facing extraordinary challenges. But with a new plan in place, FDU will meet the moment with action.
As students thrive, their upward mobility will fuel a sustainable and successful future for FDU.
Every aspect of the University must be transformed, from academic programs and student support services to campus footprints and facilities — all with student success as top priority.
The president adds that the Division I men's basketball team's historic success in the 2023 NCAA Tournament is a microcosm of the impact that FDU students can have when they're given an opportunity. "That's the FDU story. We provide opportunities for students, and they indeed seize the moment and change their worlds. That's what our basketball players did and that's what thousands of FDU graduates have done. We are confident that our students will have that impact for generations to come."
Here's an overview of what's underway and what's to come!
1. RECRUIT
Make FDU an institution of choice. Build and reinforce pipelines to allow more students to access academic degrees and programming — both in traditional and nontraditional ways — through community college partnerships and high school outreach; establishing environments that welcome adult learners and more.
"It's about the opportunity for people to return to school, to complete a degree that they may have started or to earn a new certificate, badge, credential or graduate degree to increase their opportunities. Or it's about exploring dual-enrollment programs for high school students or establishing other flexible learning options," says Avaltroni.
2. RETAIN
Advance and promote student success through comprehensive advising; customized student support services; and support for mental health, well-being and belonging.
Improve processes and efficiency to prioritize continuity of service and experience.
"We need to continually assess student habits and needs to align ourselves fully as their advocates and to create living and learning environments in which they flourish," says Avaltroni.
3. GRADUATE
Provide students with the skills, tools and network to graduate; help them apply and transition to graduate school and open doors to workplace success.
"To me, the two worst things are having students who can't get to college — because they don't have the means or the tools or they face barriers — and the students who don't finish college. When students don't graduate, they oftentimes carry around the burdens of debt without the benefit of having a college degree," Avaltroni says. "The hope would be, as we make changes at FDU, that we provide greater access and greater support to see more students come to college and succeed."
4. PARTNER
Identify, explore and establish robust partnerships with corporations, peer institutions and other third parties to strengthen long-term sustainability. Seek opportunities for shared services and meaningful collaborations.
5. GIVE
Refocus philanthropy and fundraising efforts onto student success and scholarship. The Students First campaign, which launched at the 2023 Charter Day gala, will increase the number of student scholarships, establish a hardship fund, and build scholarships for transfer students and students in accelerated graduate programs.
6. POSITION
Develop comprehensive and robust communications to tell the story of FDU and its achievements to current students, prospective students, alumni, parents, families, partners and the external world.