Mix a Drink with Alumna's 'Spiritless' Bourbon
Abbey Legott Ferguson, BA'05 (Flor)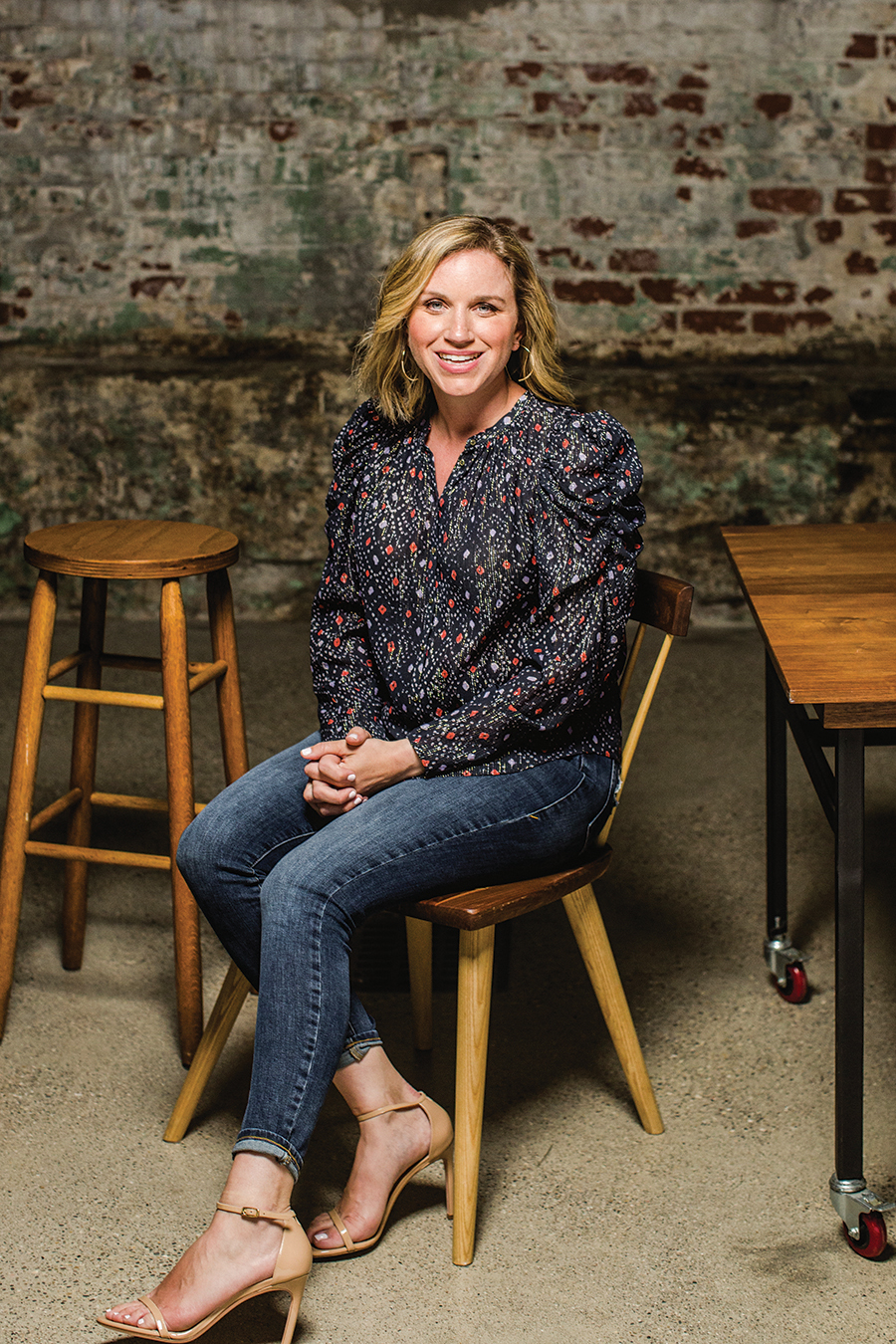 By Rebecca Maxon
Is it possible to create a nonalcoholic bourbon in the heart of Kentucky? It was for Abbey Legott Ferguson, BA'05 (Flor), cofounder of Spiritless® — creator of the Kentucky 74 brand.
Prior to Spiritless, Ferguson founded Olio Event Group — an experiential event agency — with partners Lauren Chitwood and Lexie Larsen. They worked with large spirits brands including Woodford Reserve, Buffalo Trace and Chambord.
"Olio's timing was a perfect window into the wellness sector of drinking. The only thing really out there was Seedlip, which paved the way for the nonalcoholic sector," Ferguson says. Most nonalcoholic options are made from distilled water with flavorings, which spurred the trio to experiment with reverse-distilling a true spirit to create a nonalcoholic bourbon.
"Louisville, Ky., was home, and bourbon is Kentucky, so that is how we decided on bourbon," she says. The women folded Olio into the founding of Spiritless, with Chitwood as chief executive officer, Larsen as chief operating officer and Ferguson as chief relationship officer, leading marketing efforts and industry connections.
Had they opened their distillery in Kentucky, instead of moving their home base to Austin, Texas, they would have been the 74th distillery licensed by the state, hence the 74 in the name.
To craft this nonalcoholic spirit, the company combines a grain-neutral spirit and hand-selected chars of oak to make a high-proof alcoholic spirit. Then they use the process of reverse distillation to remove the alcohol from this spirit, leaving behind a rich, flavor-packed, nonalcoholic drink that features all the same notes as a sip of Kentucky bourbon, without the alcohol.
Kentucky 74 can be substituted one for one in cocktails, or it can be used "halfsies," with one-half bourbon and one-half Kentucky 74.
Ferguson has a long relationship with the hospitality sector — growing up with parents who ran several restaurants in western New York; taking hospitality courses at FDU to complement her business degree; and working with Karlitz and Co., a New York City event-marketing company.
Tired of the city run-around, she moved to Atlanta, Ga., where an interview with Coca-Cola led her to an unexpected opportunity. "The hiring manager's wife and business partner wanted to bring a food-and-beverage event to Atlanta," Ferguson says. "But they didn't have the events experience and contacts that I had. So, I came in as their third partner." And the Atlanta Food & Wine Festival was born. After 10 years, the partners sold the company to a firm in the United Kingdom, and Ferguson launched Olio Event Group and then Spiritless.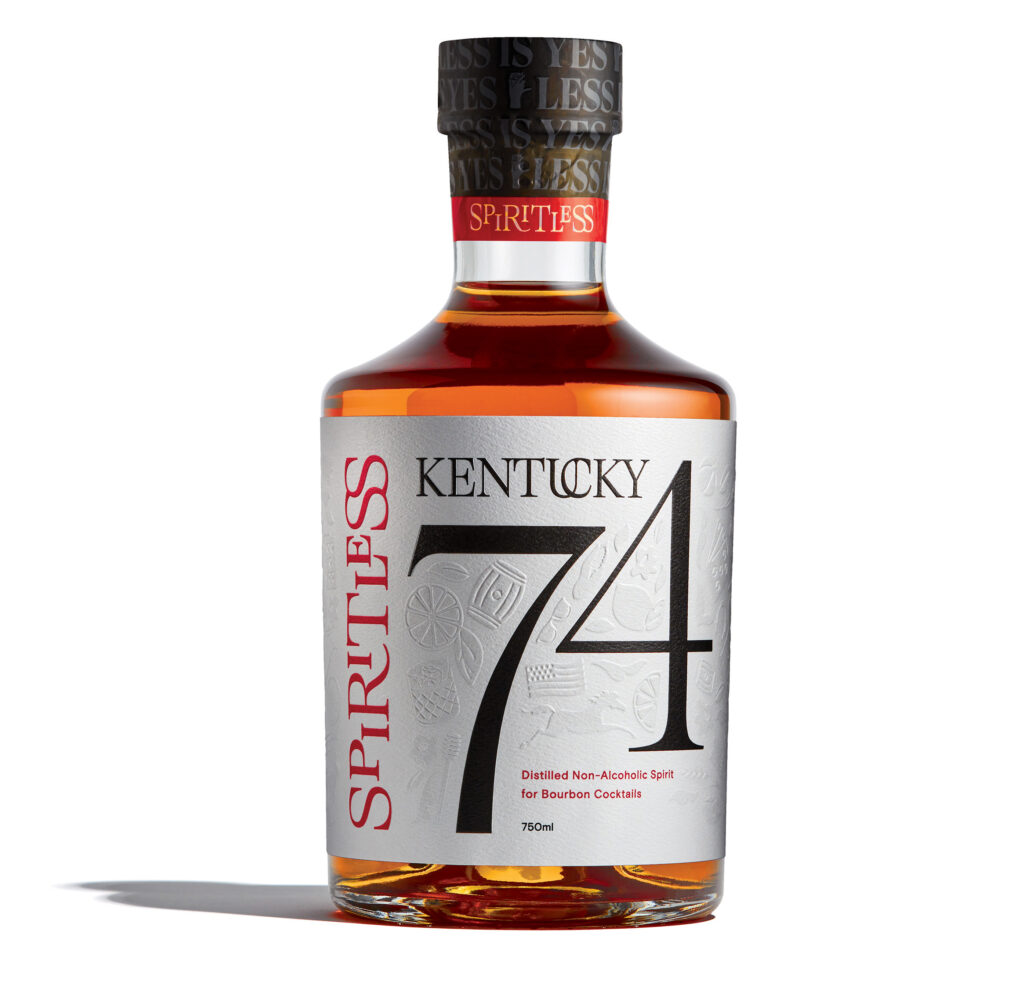 Before Kentucky 74 was out the door, the brand was featured in The New York Times. It has appeared in Southern Living and USA Today, along with industry write-ups on bevnet.com and in Whiskey Advocate.
"Kentucky 74 is distributed nationally at all Total Wine & More stores," Ferguson says, "and we have a national partnership with Four Seasons Hotels."
Kentucky 74 even got name-checked and featured on the "Today Show" in a segment on Dry January. "We didn't even pay for that! Al Roker just gave us a shoutout!" Ferguson says.
Two movements have benefited Spiritless: the female-founded movement (36 percent of small businesses are owned by women, and these businesses can apply for federally funded grants) and the wellness movement.
"The statistics are continuing to show that the millennials and Gen Z are just drinking less than their predecessors," she says. "People in general are watching their health." Making a Spiritless cocktail can reduce calories by more than half.
Spiritless released Jalisco 55, a nonalcoholic tequila, in the summer, as well as "pour-over" cocktails that just need ice — a whiskey sour and an old fashioned.
---
2 oz. Spiritless Kentucky 74 | 1 oz. fresh lemon Juice | ¾ oz. simple syrup | ½ oz. egg whites
(optional) | Orange wheel | Cherry
Shake ingredients with ice and strain into a highball or double rocks glass with fresh ice. Garnish
with cherry and orange wheel. For more cocktail recipes, visit spiritless.com.
---
ACADEMIC DESTINY
"I didn't find FDU, it found me," says Ferguson. "I got a call from the Devils women's lacrosse coach." And that was that!
RESTAURANT EXPERIENCE
Ferguson credits working in her parents' restaurants with giving her a good work ethic.
CITY BOUND
After college, Ferguson moved to New York City to work for the Fireman Hospitality Restaurant Group.