Silberman College of Business Celebrates Hall of Fame Gala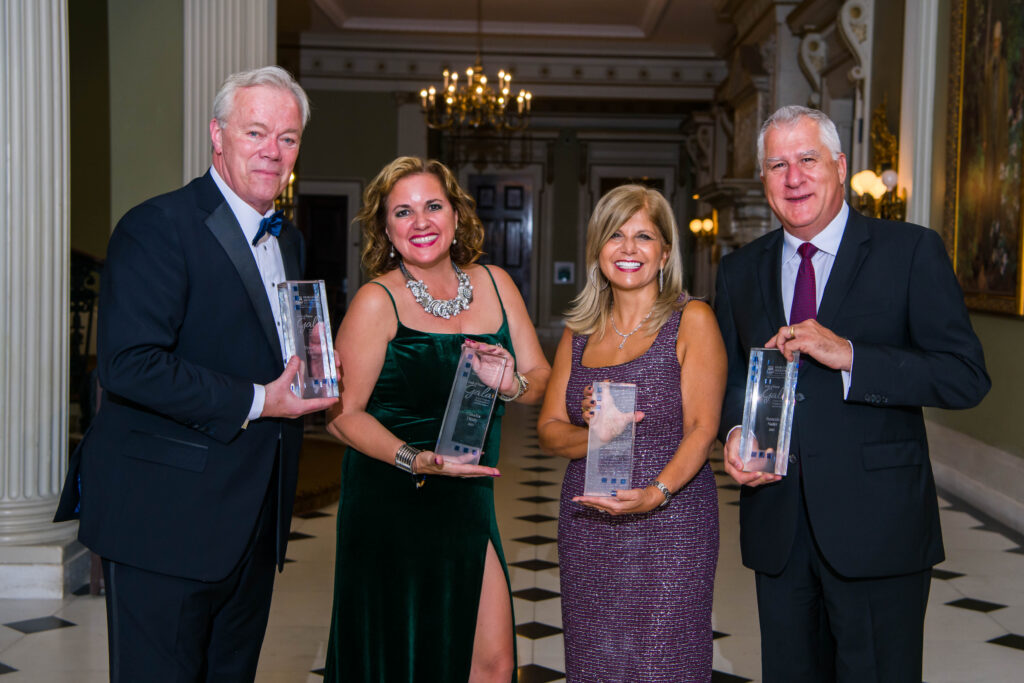 The Silberman College of Business held its Hall of Fame event on September 17, 2021, honoring accomplished alumni and raising $225,000 for student scholarships and academic programming.
The Silberman College Award for Changing Lives went to Timothy Gearty, BS'77 (Ruth); Claudia Healy, BS'92, MBA'94 (Flor); FDU Board of Trustees and Silberman College Board of Advisors member Micheline Nader; and François Nader.
Gearty is national director and editor-in-chief for Becker CPA Review and partner, Gearty & McIntyre, LLP, CPA, and the vice-chair of the Silberman College Board of Advisors.
Healy is chief human resources officer at the STO Building Group.
François Nader is chairman of Acceleron Pharma, Talaris Therapeutics and Benevolent AI.
Micheline Nader is CEO of the Jesra Foundation and an author.
RWJBarnabas Health, New Jersey's largest integrated health-care delivery system, received the 2021 Buddy Silberman Award for Social Change.
Whip Up a Recipe from the Wroxton College Cookbook!
It's hard not to think fondly about Wroxton teatime or dinners without starting to crave a favorite dish or treat from the kitchen.
Luckily, those of us living stateside and desperate for a taste of the United Kingdom can now enjoy The Wroxton College Cook Book — lavishly illustrated and featuring more than 300 recipes adapted from dishes prepared for students and guests of Wroxton College since 1964.
"The cookbook," says Jason Scorza, vice provost for international affairs and professor of philosophy and political science, "is offered as a rebuttal of the persistent and pernicious prejudices concerning British food."
The book is the fifth volume published in the Wroxton Chronicles, a series of books published by the University's Office of International Education. The other volumes include: Wroxton, by Peter Sammartino, the late University founder and president; Wroxton Journals, by Walter Savage, the late dean of Wroxton College, assistant professor of English and acting president of FDU; Wroxton Abbey: An Introduction, by Paul Edwards; and North by North, by William Henry John North.
"The Wroxton Chronicles reflect the University's commitment to preserving the history and heritage of Wroxton for future generations," says Scorza.
Sixty-six percent of the proceeds from each cookbook will support the Wroxton College Now and Forever fund. Available for purchase here. 
Homecoming 2021: Back in Action!
FDU alumni, friends and family celebrated the return of Homecoming to the Florham Campus after 2020's virtual event. Attractions included food trucks, tailgating, an alumni tent, games and more.
University President Christopher Capuano kicked off the festivities at the dedication of the Elizabeth Ruth Hennessy Field, home of women's soccer, field hockey, lacrosse and men's and women's track and field. After the dedication, the women's soccer team defeated John Jay College, 4–0, to earn Head Coach Kristin Giotta her 150th win at FDU.
Next up at the Homecoming football game, the Devils beat the Misericordia University Cougars, 31–20. Graduate-student quarterback Anthony Caserta, who was named the Middle Atlantic Conference Football Offensive Player of the Week, and senior wide receiver Connor Perez, led the team.
At the game, former Devils football players gathered to celebrate the Division III Athletics Hall of Fame inauguration of retired coach and athletics director Bill Klika.
A special moment remembered Daniel Bucci, BS'83 (Flor), a defensive lineman for the Devils, who passed away in June 2021. His wife, Beth, alongside family and friends, including Dan's brother Robert, BS'83 (Flor), also an FDU Devils football alumnus, received Bucci's framed #70 jersey.