Venus and Serena Trusted Him With Their Father's Story. And Their Own.
Reinaldo Marcus Green, BA'03, MAT'05 (Flor)
By Kenna Caprio
He knew who they were — of course — years before he signed on to do the movie.
"Venus and Serena are cultural icons. The epitome of Black excellence," says Reinaldo Marcus Green.
Green, BA'03, MAT'05 (Flor), didn't grow up watching or playing tennis.
But being an athlete, striving for greatness and making sacrifices — that, he could relate to. At FDU, he played baseball for the Devils, well enough to make the record books and to score a few professional tryouts.
When he pitched his vision for "King Richard" — which really hinged on how their upbringing and their entire family, led by their father Richard, made the Williams sisters into champions — to Warner Brothers executives, producers, and actor Will Smith, Green leaned on his athletics past. Other directors vying for the job didn't have a sports background or perspective. After he was hired, Green immediately immersed himself in tennis.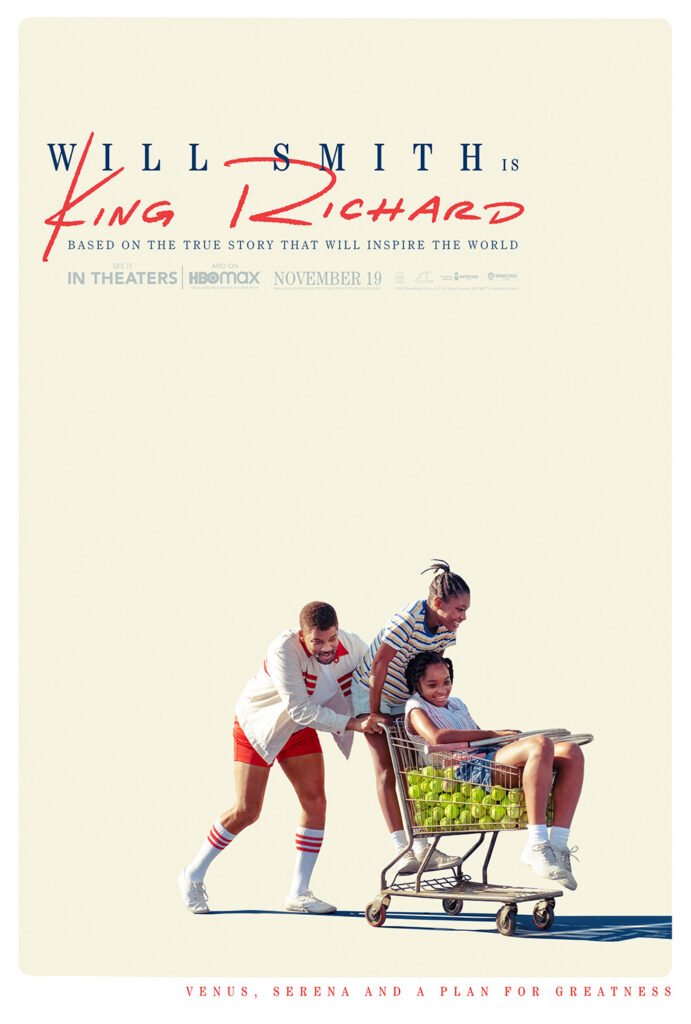 "We shot lots of footage before we ever set foot on the film set to find the language of the movie and the language of shooting the tennis scenes," says Green.
With Academy Award-winning cinematographer Robert Elswit ("There Will Be Blood") by his side, Green broke down the script, "thinking about how the tennis really plays into the drama of the movie so that it never feels like an addendum to the story. It always feels like part of the fabric."
To get the look and feel of the scenes on court right, Saniyya Sidney and Demi Singleton, the young actresses who play Venus and Serena, respectively, had to learn to move like the Williams sisters. Neither plays tennis. "They learned the technique of holding the racket and learned the movement. We did a lot of digital ball replacement and had body doubles who are true juniors playing at a high level.
Venus and Serena revolutionized how tennis is played with their open stance and so that became a story point," Green says.
"There's a lot of joy in the movie. We learn about the whole family — the five sisters and their lives in Compton, Calif. They were all out there [cheering] with signs and picking up the tennis balls and riding in the van together. Richard is the visionary, but Oracene Price [their mother] coached Serena, while Richard worked with Venus."
The movie centers on the years leading up to the sisters' debuts on tour, with an emphasis on Venus, since she broke through first at the professional level.
"It happened with love. With commitment. It's a testament to parenting and to their upbringing," says Green. "They decided to take the world by storm and decided that they deserved to be there, that they belonged."
Green and screenwriter Zach Baylin worked closely with the family, interviewing Oracene, Venus, Serena and their sisters Isha and Lyndrea Price.
"We needed their approval, in a lot of ways, to tell this story. To have the Williams family's support means everything." That said, Green didn't steer away from showing just how hard things were as the family faced racism in an incredibly white sport — or from the thornier aspects of Richard's personality.
"One of the hardest scenes is probably also one of my favorite scenes, with Oracene and Richard talking in the kitchen. There's a simplicity to the scene, but it's always complicated to make scenes with a lot of dialogue feel organic and lived in," says Green. "I provided the space and guidance and gave them belief and security. Will and Aunjanue [Ellis] are incredible."
The movie has garnered critical acclaim, and following its run on HBO Max and its theatrical release, received six Oscar nominations for best picture, best actor, best original screenplay, best supporting actress, best original song and best editing. Earlier in the awards season, Will Smith won a Golden Globe for Best Actor in a Motion Picture Drama for his portrayal of Richard Williams. The acting ensemble is nominated for a Screen Actors Guild Award, Outstanding Performance by a Cast, which is the body's highest honor.
Green credits his college baseball career and his academic experience at FDU as the foundation for his success in the film industry.
Before he would achieve career milestones at Sundance and with "King Richard," Green studied education at FDU. He subsequently taught K–5 elementary school in Bedminster Township, N.J.
"There's nothing more humbling than speaking to a group of diverse students and trying to get them engaged in a subject matter. The same principles of education apply to what I'm doing now because there are so many different levels of management in the filmmaking process. Public speaking and lesson planning prepared me to pitch," says Green.
In between his teaching and filmmaking careers, Green spent five years working on Wall Street in diversity and inclusion at AIG. At the time, his brother Rashaad was in film school at New York University (NYU).
On weekends, Green moonlighted as a production assistant and actor in Rashaad's short films. One of those films made it to the Sundance Film Festival — the brothers went together — and that experience sparked Green's decision to apply to NYU.
The idea was that Rashaad would direct, and Reinaldo would produce their movies. "My intention was to write and produce, and I came out a director," Green laughs. In film school, he wrote and directed seven short films. Two — "Stop" and "Stone Car" — premiered at festivals.
"I was able to get my first feature, 'Monsters and Men,' made because of the contacts I made at film festivals," he says. It premiered at Sundance in 2018. He followed the project by directing a few episodes of television and the 2020 movie "Joe Bell" with Mark Wahlberg. Then he read the script for "King Richard."
"There's no one way to become a filmmaker, but specifically for writers and directors, the straight line is the best line. If you want to write and to direct, you have to write short films, direct them and complete them. It takes an incredible amount of self-belief," he says.
Green just wrapped a new six-part miniseries for HBO, "We Own This City," written by David Simon and George Pelecanos ("The Wire"), about a rogue unit in the Baltimore Police Department in the aftermath of Freddie Gray's death in 2015. Expect the show to debut this spring.
"Now, I'm in prep for the Bob Marley biopic at Paramount Pictures. I'm really looking forward to bringing this legend to the screen and his music to an even wider audience," Green says.
"I worked at the Starbucks in Chatham, N.J., and literally in the same parking lot was a Blockbuster. Every Friday night, I'd rent a movie. It was such a culture — renting the movies, watching the movies and returning the movies. Netflix before Netflix! I didn't realize at the time, but I was doing a lot of homework," says Green.
"I love 'The Goonies' and 'Jurassic Park.' Then there are the movies that represent my community and my culture — 'Do the Right Thing,' 'Boyz n the Hood,' 'Menace II Society' — all just great stories. What those movies did so well was tell stories, and that's had a lot of influence on the films that I've decided to make."