50 Years of Sports Car Fanatics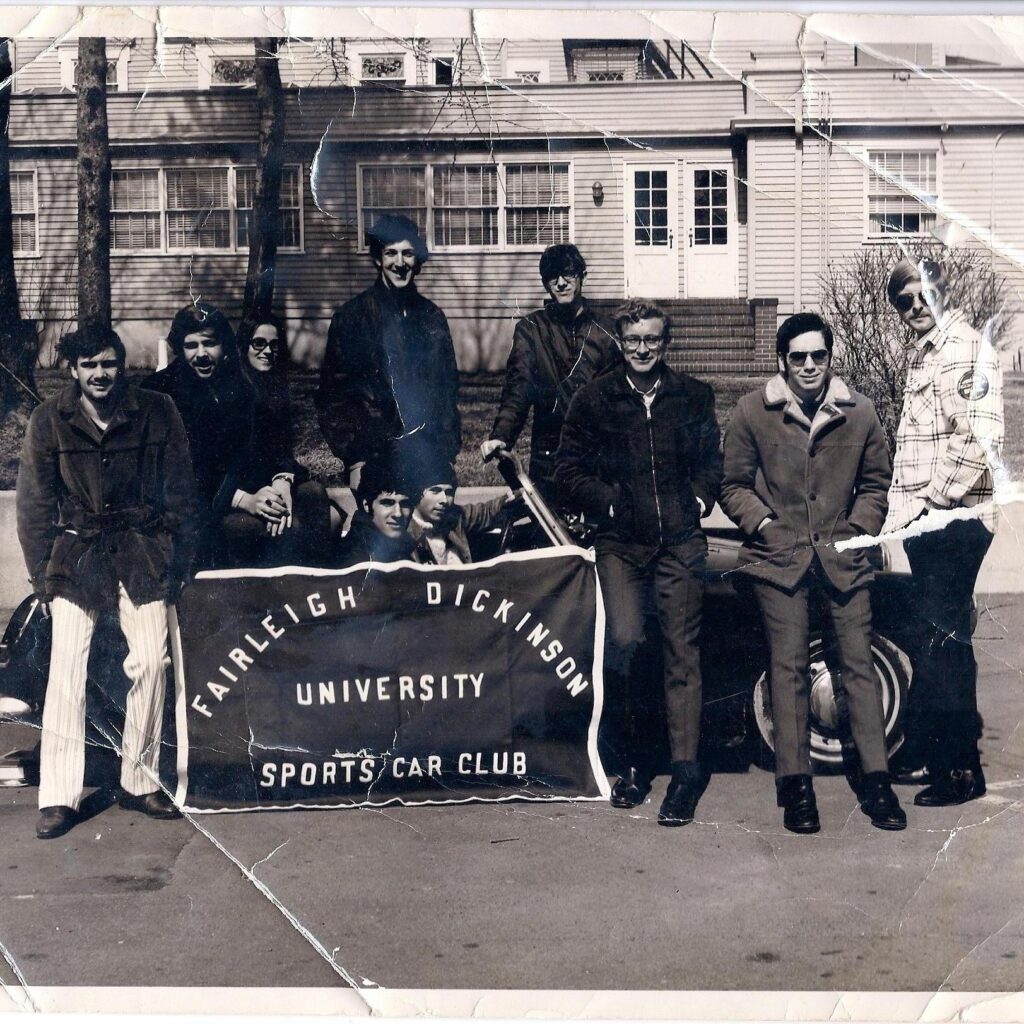 The Fairleigh Dickinson University Sports Car Club held a 50th reunion road rally on October 13, 2019. The rally started at the Metropolitan Campus and proceeded some 50 miles to end in Morris County. The event, "Spring Off 50," was held to celebrate the 50th anniversary of the original Spring Off rally, held in March 1969 and sponsored by the Sports Car Club. The top three winners were: third place: James Brown, driver, and Jan Mehall, navigator; second place: Bruce Hesse, BS'72 (Metro), MBA'83 (Flor), driver, and Rose Hesse, BA'71 (Metro), navigator; and first place: Gary Musciano, driver, and Mary Lou Musciano, navigator. Pictured are: back row (from left): Hesse; Richard Brown AA/BA'75 (Metro); Wayne Schultz BA'72 (Metro); Michael Herrick, '71 (Metro); Tom Golembieski, BS'74 (Metro); Gary Musciano; James Brown; Mehall; and Bart Carlevaro. Middle row (from left): Ken Greco, BS'75 (Metro); Stephen Garbarini, BA'74 (Metro); Linda Louie, '73 (Metro); Lou Cizek, BS'73 (Metro); and Mary Lou Musciano. And, front row (from left): Jeff Becker, BS'72 (Metro); Richard Eidelson, BS'72 (Metro). Featured is the original club banner from 50 years ago.
1960
s
1962
Dickson Despommier, BS (Metro), has become one of the foremost authorities on parasitology, microbiology and vertical farming. He is the cofounder of Parasites Without Borders, which brings the latest medical information on diseases caused by parasites to people and places around the world. Despommier is cohost of the podcast "This Week in Parasitism," which has more than two million downloads. He also is the coauthor of Parasitic Diseases, which is now on its seventh edition.
---
1963
Edward Borowski, BS (Ruth), was appointed to the Beaver Creek (Ariz.) Elementary School District governing board, effective February 11. Borowski worked as an accountant and a financial consultant before teaching math and technology for 21 years in Maine, primarily at the high-school level. He retired in 2008 and moved to Arizona, where he volunteers with Beaver Creek Transit and Northern Arizona Healthcare. He is the treasurer of St. Frances Cabrini Catholic Church and the Beaver Creek Historical Society.
---
1967
Joseph Adamo, MS (Metro), was presented with the Albert Nelson Marquis Lifetime Achievement Award in 2019 for his professional experience, achievements and leadership qualities. His professional background in biology spans 55 years. At Ocean County (N.J.) College, he taught, did research, directed its environmental center and headed the college's department of science. Adamo was a visiting professor at Drexel University, Philadelphia, Pa., and Rutgers University. He also taught in the graduate school at Georgian Court University, Lakewood, N.J., where he stayed until his retirement in 2010. As an exchange scientist, Adamo spent a year in Asia at the University of the Philippines and the International Rice Research Institute.
1970s
1972
JoAnn Smith Ainsworth, MA (Metro), released her seventh novel, Expect Betrayal, on April 18. The paranormal suspense novel pits government-recruited psychics against Nazi spies during World War II. The book's predecessors Expect Trouble (Book 1 of the series) was a semifinalist in the East Texas Writers Guild's First Chapter Contest and runner-up for the Shelf Unbound Award and Expect Deception (Book 2) was a finalist in the 2016 Best Books Awards, mystery/suspense category and a finalist in the East Texas Writers Guild First Chapter contest.
---
1973
Elsa Núñez, MA (Flor), president of Eastern Connecticut State University, Hartford, Conn., was a guest of honor at the Chamber Women's Council's Strong Women, Strong Leaders, Strong Voices Series in February.
---
1974
John Lazo, Jr., BS (Ruth), retired from the practice of medicine in 2019. He attended FDU on the GI Bill, after serving four years in the U.S. Air Force as a medic (1966–1970). Lazo went on to receive his MD from the Universidad Autónoma de Guadalajara in Mexico, and completed an emergency medicine residency at Summa Health System – Akron City (Ohio) Hospital. He did additional trauma and critical-care training at the University of Maryland Shock Trauma Center in Baltimore. In 1983, Lazo joined the emergency department at Parma (Ohio) Community General Hospital, and helped start its paramedic-training program. At Parma, he served as department chairman, EMS medical director, director of paramedic training and police SWAT team medical director. Lazo was honored as the first elected Emergency Medicine Physician of the Year in Ohio in 1992. He retired from emergency medicine in 2015, but continued working in the field of hyperbaric medicine and wound care at University Hospitals' Parma Medical Center and the Cleveland Clinic Medina Hospital until his retirement in 2019. Lazo writes that he and his wife of 47 years, Donnalynn, live in Hinckley, Ohio, but are in the process of "downsizing" to Seville, Ohio, to be near their children and grandchildren.
---
1976
Henry Celestino, BS (Metro), vice chair of L&L Holding Co., received the Real Estate Board of New York's George M. Brooke Management Executive of the Year Award for his unique and exemplary professionalism, civic achievement and contributions to the real estate industry. At L&L, Celestino oversees the day-to-day construction, engineering, building operations and management of the company's New York City portfolio.
---
1977
Gerard Abate, BS (Flor), is a medical affairs, clinical development and pharmacovigilance consultant at Vite-Scientia Consulting in Jacksonville, Fla., which provides a portfolio of services for the pharmaceutical and biotech industries. An MD, Abate was previously a cardiologist. In his current capacity, he also serves as the chief medical director of United Health Products, Inc., manufacturer and marketer of HemoStyp, a patented hemostatic gauze for the health care and wound-care sectors. He was formerly executive director of medical affairs at Quest Diagnostics.
---
1978
John "Jay" Jorgensen, BA (Metro), a judge at the Middlesex Vicinage Family Division, writes that he and his wife wrote a play about the original trial of the century titled the Trial of the Century: The Hall Mills Murder Trial Play. The first performance of the play was staged in June 2019 in the historic courtroom in Somerville, N.J., where the original trial took place in 1926. Jorgensen and his wife have taught courses at the Florham Institute for Lifelong Learning, including Murder in New Jersey and Leadership Lessons in Literature. He also taught courses on the Battle of Gettysburg, New Jersey in the American Revolution, A History of the United States Supreme Court and The American Presidency.
---
1979
Dennis Coyle, DMD (Metro), has been voted one of New Jersey's Top Dentists in NJ Monthly's annual ranking. He established his private practice, Coyle Dentistry, in Madison, N.J., in 1984. Coyle is a fellow of the Academy of General Dentistry and is a member of both the American Academy of Cosmetic Dentistry and the American Dental Association.
1980s
1981
Gordon Ward, BA (Flor), now a resident of Maine, is devoting himself full-time to his music. He plays guitar and his third album, "Eiderdown," was released on May 1. After graduation, he married in 1983, and had two children, a daughter, Melina, now 33, and a son, Cory, now 23. A former silk-screener and, from 1987 to 2005, a history and English teacher, Ward is now a part-time youth minister. His first record, "Welcome to the Past," contained original, acoustic folk-rock ballads, story songs and anthems. In 2018, he released his second album, "Providence," for which he was balloted for a Grammy Award. For more on Ward, go to his website: gordonthomasward.com.
---
1982
Serena Bocchino, BA (Metro), was one of the participating artists in the inaugural public art project cosponsored by New Jersey Transit and the New Jersey State Council on the Arts. Two of Bocchino's mural-sized works grace the front and rear facades of Newark Penn Station.
David Ireland, BA (Metro), is founder and senior pastor of Christ Church, a 9,000-member multisite congregation in North Jersey representing more than 70 nationalities. He was formerly diversity consultant to the National Basketball Association, and has led chapel services for the New York Giants, New York Jets and the Pentagon. Ireland is the author of more than 20 books, including Raising a Child Who Prays: Teaching Your Family the Power of Prayer. He also has appeared on numerous television and radio shows such as "The Dr. Phil Show," "The CBS Evening News," "The 700 Club" and "Focus on the Family." Through his community-development corporation, Ireland offers a home for victims of domestic violence.
---
1985
Jeff Gildiner, BS (Ruth), a mathematics teacher at the William Davies Middle School in Mays Landing, N.J., was named Teacher of the Year. He has been teaching in the Hamilton Township School District for 19 years.
---
1988
Louis Magliaro, BS, MBA'93 (Ruth), joined the Penn State School of Hospitality Management (SHM) Industry Advisory Board. He is executive vice president and group publisher at The BTN Group, the corporate-travel publishing arm of Northstar Travel Group.
---
1990s
1990
The baseball area of Denville, N.J.'s Gardner Field was dedicated as the "Bob Ranft Field" after Robert Ranft, Jr., MBA (Flor), who died in November 2019 at the age of 81. He owned Ranft's Denville Vacuum and Appliance and Record and Tape Shop. His extensive community service in Denville earned him the first-ever key to the town. Ranft was known in his hometown as "Mr. Baseball" because of his love of the sport and because he coached and advocated for local baseball activities.
---
1992
Robert Friel, MS (Flor), retired chairman and chief executive officer of PerkinElmer, Inc., Waltham, Mass., was elected to the board of directors of West Pharmaceutical Services, Inc.
The New Jersey Society of Certified Public Accountants has named Alan Sobel, MS (Flor), managing member of the firm SobelCo, LLC, its 2020–2021 president.
---
1993
Amit Rastogi, BA (Metro), president and CEO of Jupiter (Fla.) Medical Center, was selected as a 2019 Power Leader in Health Care by the South Florida Business Journal. According to the South Florida Business Journal, the 2019 Power Leaders are driving innovation and award-winning patient care across South Florida.
David Turi, MBA (Metro), has been appointed acting dean of the School of Business at Felician University, Lodi, N.J. He has been with the School of Business for 17 years, is an integral member of the university's Curriculum Strategies Committee and served on the 2017 International Accreditation Council for Business Education (IACBE) Self-Study and the Middle States Self-Study accreditation teams. He is a long-time member of the Internal Review Board of the university. He is chair of the board of directors of IACBE and has served as treasurer and a board member for Middle States.
---
1996
Michele Logan, MBA (Flor), executive chairman and cofounder of CompoSecure, Somerset, N.J., was named to the 2020 NJBIZ Best 50 Women in Business. This year's winners were selected by an independent panel of judges based on the following criteria: career accomplishments, leadership, vision, community service and mentoring.
---
1998
Judy Hayman, MA, PhD'00 (Metro), is director of the VA Montana Healthcare System. She is a member of the American College of Healthcare Executives and the American Psychological Association.
---
1999
Christopher Golinski, MBA (Flor), was selected to fill Denville, N.J.'s Ward 2 council seat vacancy, left by former Councilman Brian Bergen. Golinski previously served two four-year terms on the township council from 2009 to 2017. He is a manager at a Fortune-100 company, where he leads a team specializing in supply chain, logistics and procurement.
2000s
2000
Audra Carter, BS (Metro), was promoted to battalion chief in the Hoboken Fire Department, the first female ever to occupy the position in the city's history. She has served as a firefighter for 18 years, most recently as captain since 2011.
---
2001
Samy Tadros, MBA (Metro), has been appointed vice president of business development at Tango Therapeutics in Cambridge, Mass. He joined Tango from Celegene, where he served as executive director, business development and global alliances. Before joining Celegene he worked at Charles River Labs and Schering-Plough.
---
2003
Yvette Carscadden, BA (Flor), social media/compliance lead at Equitable, posted "Protecting Your Mental Health While Under Quarantine," on LinkedIn on March 25, 2020.
Gino Pascarella, BS (Flor), and his brother, Anthony, celebrated the 10th anniversary of their business, Pascarella Brothers Delicatessen and Catering, on February 9, 2020. An Italian/American eatery, Pascarella Brothers has branches in Chatham and Morristown, N.J. A fixture in the communities it serves, the eatery supports a variety of events such as Walk for Life, the local farmer's market and Chatham's annual Fishawack Festival.
Richard Skinner, BA, MAS'07 (Metro), was promoted to chief of police at the Washington Township (N.J.) Police Department, in Bergen County, effective December 2, 2019. A 26-year veteran of the department, he is a former U.S. Marine who made captain in 2018.
Pamela Thomas-Fields, MAS (Metro), works in Atlantic City's planning department and is an adjunct faculty member at the Stockton University School of Business, Galloway, N.J.
---
2006
Gustavo Antonio Dajer Barguil, MAS (Metro), was appointed to the board of directors of Arrow Exploration Corp., the Toronto-based parent company of Colombian Carrao Energy. He is a former diplomat with the Colombian Mission to the United Nations in New York and the former consul general of Colombia in London, England.
---
2007
Nicole Nelson, MAS (Metro), was promoted to lieutenant in the Hamilton Township (N.J.) Police Department. Nelson was born and raised in the township and has lived there her whole life. She has been married to Warren "Jerry" Nelson for 15 years, and they have a 9-year-old son, Andrew.
---
2008
Robert Dolan, Jr., MAS (Metro), was promoted to captain in the Manchester (N.J.) Police Department in March. Dolan began his career with the police department in 1993 as a dispatcher. A year later he became a patrolman and earned the rank of sergeant in 2004. He was promoted to lieutenant in 2011. His most recent assignment was the development and implementation of the Division of EMS, which encompasses emergency medical services and fire. The program launched March 1.
Timothy Gerity, BA, MAS'18 (Metro), is a detective sergeant at the Saddle River (N.J.) Police Department.
---
2009
Nina Foxx, MFA (Flor), launched the Writing Sisters Summit in 2019, with the intent of bringing together male and female writers who want to hone their craft and learn from one another. A Seattle, Wash., resident, Foxx is the author of more than 17 works in multiple genres, including plays and films. She has won multiple African-American Literature Awards, is an NAACP Image Award nominee and was shortlisted for a Doctorow Award in Innovative Fiction. The next summit will be conducted virtually October 15–18, 2020. The 2021 Writing Sisters Summit (in the Sands) will focus on writing and wellness and be held at the Blue Sky Mountain retreat in Taos, N.M. Foxx is an engineering psychologist by trade, and volunteers her time to promote STEAM careers for underserved youth, often focusing on the value of storytelling in technology occupations.
2010s
2010
Felisha Reyes-Morton, BA (Metro), a councilwoman in Camden, N.J., was included in New Jersey Monthly's "10 Millennials to Watch." A mother of three, she is the youngest member of the City Council. Reyes-Morton and her husband, Bryan, started the North Camden Little League to make a local park safe. Now citywide, the league has garnered national press and was the subject of the documentary "Pyne Poynt."
William "Bill" Winters, BS (Flor), a Devils Hall-of-Famer quarterback inducted in 2016, ran the half marathon for South Plainfield, N.J., Mayor Matthew Anesh's Wellness Committee "Caught on a Walk/Run" program for healthy living. The half marathon was held on October 25 in Jersey City, but Winters can be seen running through South Plainfield on any given day.
---
2011
Michael Carr, BA, MAS'12 (Metro), joined Berkshire Hathaway Home Services Gross & Jensen Realtors as a sales associate in its Franklin, N.J., office. After a 27-year law-enforcement career, Carr obtained a license as a mortgage loan originator in New Jersey. As a loan officer, he worked with real-estate agents and brokers in helping their clients secure the right mortgage financing for their property.
Jamie LaCouture, BA (Flor), has been appointed to the board of directors of the Center for Prevention & Counseling in Newton, N.J. She also is a community relations and tradeshow supervisor at Thorlabs, Inc., in Newton.
---
2013
Eric Higgins, BA, MAS'14 (Metro), chief of police at the Lakehurst (N.J.) Police Department, retired in December 2019 after 26 years of service. He started his law-enforcement career in 1994 after serving in the United States Marine Corps. During his service, Higgins was a D.A.R.E. officer and was on both the Ocean County SWAT and Ocean County Narcotics Strike Force teams.
---
2014
Christopher Prychka, BA, MS'20 (Metro), was promoted to lieutenant in the Hamilton Township (N.J.) Police Department. He was born and raised in Mays Landing and currently lives about 500 feet from where he grew up. He is married to Michelle and has two children, Lindsey, 24, and Thomas, 14. He is currently finishing up a master's degree in homeland security at FDU.
Joe Reizer, BA (Flor), writes that his senior thesis project was a feature-length horror film titled "Final Cut" that he directed and shot in locations around Madison, N.J., and on the Florham Campus. The finale takes place in Hennessy Hall. "Final Cut" is now available on Amazon Prime, Xfinity, Direct TV and many other streaming platforms.
Tom Strowe, BA (Flor), is the Scotch Plains (N.J.) Township's project coordinator for redevelopment. An amateur historian, he hosted a presentation during President's Day on Manifest Destiny (the 1800s concept that American expansion from sea to shining sea was justified and inevitable) that examined the roles of U.S. Presidents James Polk and Zachary Taylor.
---
2016
Ronald Edwards, BA, MAS'17 (Metro), was appointed director of the Hudson (N.J.) County Department of Corrections shortly after earning his master's degree at FDU.
Dawanna Williams, MPA (Metro), is giving back to health care workers through her franchise Blo Blow Dry Bar, in West Orange, N.J. For every online purchase of a $50 gift card, Blo Blow Dry Bar is donating one free blowout to a health care worker from Robert Wood Johnson Barnabas Health in West Orange, to be redeemed on a first-come, first-served basis.
---
2017
Steve Dollinger, MAS (Metro), became police chief of St. Pauls, N.C. on January 1. He was previously chief of police in Middletown, N.J.
---
2018
Kumar Gaurav, MS (Metro), started working the same week as graduation. He was promoted to lead software engineer. Gaurav writes that he travels to his home country for vacation.
Michael Hughes, MAS (Metro), was promoted to captain of the Egg Harbor (N.J.) Township Police Department in January. He writes that several FDU alumni from the Metropolitan Campus have likewise been promoted. They are Cherie Burgan, BA'10, MAS'11, to lieutenant; Michael Finnerty, MAS'10, to lieutenant; Jody London, BA'15, MAS'17, to sergeant; Mark Mensch, BA'10, MAS'12, to sergeant; Heath Per, BA'10, MAS'11, to lieutenant; Thomas Rocco, MAS'12, to sergeant; Gary Rzemyk, MAS'05, to lieutenant; Stephen Slusaski, MAS'05, to lieutenant; Frederick Spano, MAS, to captain; and Michael Steinman, MAS'12, to chief of police. Three FDU alumni from the Metropolitan Campus retired from the Egg Harbor Police Department: Raymond Davis, MAS'03 and adjunct faculty member, Petrocelli Center, retired in July 2019 as chief of police; James Druding, MAS'09, retired in November 2017 as captain; and Christopher Ruef, MAS'06, retired in December 2018 as deputy chief of police.
Frances "Frannie" Jarin, BA (Flor), is a full-time patrol officer for the Toms River (N.J.) Police Department.
Andrew Wood, BA (Flor), was cast for the developmental reading of the new musical "57 BUS," which was held in New York City in February. He played Tucker in the musical, which was inspired by a true event that took place on a bus in Oakland, Calif., in 2013, when an 18-year-old agender [without gender] high-school student's skirt was set on fire by another student.
---
2019
Christopher Hemhauser, MAS (Metro), was promoted to lieutenant in the Manchester (N.J.) Police Department in March. Hemhauser began his career with the department in 1996 as a dispatcher and took his oath as a patrolman in 2001. He served as a field-training officer, dedicated a combined seven years to the Manchester and Ocean County Regional SWAT teams and was assigned to the Investigations Bureau in 2006. After nine years as a detective, he was promoted to detective sergeant in 2015, the position he held until his recent promotion. He is a member of the Ocean County Prosecutor's Office Arson Task Force, the Manchester Police Honor Guard and has earned numerous awards and commendations throughout his career.
In Memoriam
Associate Athletic Director and Head Men's Basketball and Golf Coach, Roger Kindel died on Monday, March 9. Kindel was employed at FDU for more than 40 years. He served as the head men's basketball coach from 1978–2005. During that time, Kindel won 334 games, reached the NCAA Tournament in 1990 and 1998; competed in the ECAC tournament seven times, including winning the ECAC championship in 1999; and made the Middle Atlantic Conference Freedom Tournament nine times. Kindel also served as the head men's golf coach from 1990–2018, guiding the Devils to four consecutive Freedom Conference Tournament Championships from 2006–2009 and one in 2013. Under his leadership, the Devils went to the NCAA Tournament in 2007, 2008, 2009 and 2013. Kindel also earned Freedom Conference Coach of the Year honors five times, and tutored five Freedom Conference Players of the Year. He served as the associate athletics director and ended his tenure on the Florham Campus as the interim athletics director, retiring in 2018. In 2016, Kindel received the MAC's Lou Sorrentino Award, presented to the MAC athletics administrator who has had a sustained and influential role in conference and national affairs, and embodies the NCAA Division III philosophy. In 2013, he won the Pillars of FDU Award, which honors those who have made extraordinary contributions to Fairleigh Dickinson and have been with the University for more than 10 years. Kindel is survived by his wife of 47 years, Valerie Kindel; his daughter, Heidi Clark, BA'01, MAT'02, and her husband, Robert; two grandchildren, Gracie and Nate Clark; and two brothers, Rudolph and Ross Kindel.
---
Joseph Devine, MAS'02 (Metro), associate professor of administrative science, Metropolitan Campus, died on April 26. He served on the FDU faculty for 24 years, joining FDU full-time in 2007 after retiring as chief of detectives at the Morris County Prosecutor's Office in 2006. Devine was an inspiration to many students in the law enforcement field and students in other professions who completed degrees through the (former) Anthony J. Petrocelli College of Continuing Studies (now the Petrocelli Center for Continuing Studies). His diligent work and mentoring have reshaped how law enforcement executives are trained and educated across the state. He also founded his own consulting firm, Devine Leadership Concepts, LLC. He is survived by his son Conor and his fiancée Sunny Sullivan-Fullerton; his son Sean and his wife, Beth and daughter Emma Riley; his daughter Heather; his ex-wife of 28 years, Maureen McGeehin; and his fiancée, Trish Burke.
---
Samuel Feinberg, retired associate professor of psychology on the Metropolitan Campus, died on May 3, 2019, at the age of 74. He joined FDU in 1999 as an adjunct faculty member in University College, served as an assistant professor of psychology from 2003 to 2009 and retired in 2012 as associate professor of psychology. His interests were in the use of humor for mental health, and his research focused on best practices in interventions that were feasible in schools.
---
Ronald Heim, retired associate professor of marketing, died in January at the age of 81. Heim joined FDU in 1981 as an assistant professor, was promoted to associate professor in 1985 and became assistant dean in 1997, to be later promoted to associate dean. He also chaired the management, marketing information systems and sciences department. In 2003, he was appointed interim executive director of the institute for global business education. He retired from FDU in January 2017.
ALUMNI IN MEMORIAM
1950s
Donald Dempster, BS'58 (Ruth)
George Margitich, BS'59 (Ruth)
---
1960s
Louis Gill, BS'60 (Ruth)
Edward Austin, BS'62 (Metro)
Philip Cerria, BS'63 (Ruth)
Doris Chu, BA'64 (Metro), MA'66 (Ruth)
Robert "Bob" McStay, BS'64 (Metro)
Charlotte O'Donovan, AA'64 (Metro)
John "Jack" Luiszer, BS'65, MBA'70 (Ruth)
Richard Miner Payne, BS'65 (Metro)
Dennis Wilson, Sr., MBA'66 (Ruth)
Richard Siegel, BA'68 (Metro)
Annette Slahor Alloway, BA'69 (Ruth)
Howard Hershey, BS'69 (Metro), MS'72 (Flor)
David Lubar, BS'69 (Metro)
Alexander Nagy, BS'69 (Ruth)
Herman Tschoepe, BS'69 (Metro)
---
1970s
Richard Collins, MBA'70 (Ruth)
Mary Fitzpatrick Parris, BS'71 (Metro)
Stephen Streitfeld, BS'73 (Metro)
Albert Angrisani, MBA'74 (Flor)
Marilyn Hoffman, MA'75 (Metro)
Elizabeth Yager, BS'74 (Flor)
---
1980s
Deborah Wenig, BA'80, MA'86 (Metro)
Gregory Nock, BS'81 (Flor)
Mary Elizabeth Dimond Ortzman, MA'81 (Ruth)
Marianne Apollo Tramelli, MA'81 (Metro)
William Vandertulip, BS'81 (Flor), MBA'90 (Ruth)
Madalyn Butler Gilligan, BA'83 (Metro)
Kenneth Tanis, Jr., MBA'85 (Ruth)
---
1990s
Robert Ranft, Jr., MBA'90 (Flor)
John Mooney, MBA'92 (Metro)
---
2010s
Daniel Paredes, BS'17 (Metro)