Beyond academics, beyond family, beyond friends, beyond work — hobbies, talents and side projects drive FDU students and alumni. Here's how a handful of them spend their downtime!
By Kenna Caprio
Tree Climber
Tiffanie Arokiaswamy, BA'19, MA'20 (Flor)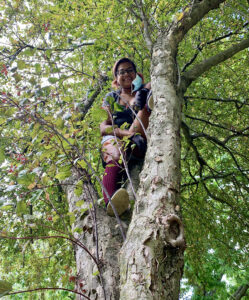 Childhood Connection: "When you get up in a tree, a massive wave of nostalgia floods in. Plus, it's great physical exercise and provides mental and emotional rest."
New Heights: As a child, Arokiaswamy was afraid of heights and of falling. But she kept going, competing with other children who lived in her apartment complex to climb the highest. "Each branch signified a small, temporary accomplishment. And I would look up and get more excited for the next branch."
Climb Up: She loves to climb under the spring sun, when her favorite tree blooms pink flowers.
High Above: Tree climbing allows Arokiaswamy to appreciate Mother Nature, and the bigger world that lies ahead
Competitive Rower
Nicolas Galeano-Monsalve, MAS'20 (Van)
Training Schedule: A member of the Vancouver Rowing Club, Galeano-Monsalve rows twice a week on the water and trains indoors two days a week.
Athletic Prowess: "It's a challenging, competitive and humbling sport. Your crew counts on you, and that creates long-lasting bonds. You develop endurance and strength, using basically all parts of your body to row," he says.
Race Season: Spring-fall
Rowing Terms: There's sweeping and sculling. In sweeping, rowers use a large single oar. In sculling, competitors operate two smaller oars. Rowers compete in both sprint races (regattas) and head races (time trials).
What's Next: Races typically would've started in April, but COVID-19 led to suspended competition. Galeano-Monsalve expects events to resume in 2021.
Digital Artist and Illustrator
Maryam Jawad, Junior Biology Major (Metro)
Artistic Tools: Apple iPad Pro, an Apple Pencil and the Procreate app
Her Process: "I've always been artistic, and now I can see progress from the first pencil stroke to the final export file. Some of my illustrations have taken up to two days to create. You can digitize almost anything and create colors that you couldn't have ever imagined making freehand," Jawad says.
Current Inspirations: Family, friends, nature and life experiences
See More: Check out Jawad's Etsy store, stickersbymj, to purchase illustrations and stickers. Find her work and keep up on Instagram, Pinterest and TikTok at @adventuarz. She takes commissions, and her website is coming soon!
Magician
Anthony Masi, BA'91 (Flor)
Starting Out: At age 10, Masi practiced with his magic props — playing cards, string, sponge balls — in his room for the birthday parties and other gigs his mom booked.
On Stage: He performed at FDU talent shows, and after graduating, was a full-time magician for a while. Now he performs at The Magic Castle in Hollywood, Calif.
Stage Name: Anthony Asimov
Day Job: Movie producer
Best Trick: He takes a strand of sewing thread from a spool and breaks it into little pieces. Then he restores them into one long string. "It shows that the mysteries of life are worth exploring. Magicians give the heart what it craves — adventure and mystery."
Hair Stylist and Makeup Artist
Faith Adelufosi, Senior Biology Major (Metro)
Beauty Icons: Iman, Diana Ross, Sade Adu and Instagram influencer @beautyby_melissa
Her Brand: Adelufosi launched @glammedby_faith in 2018 after practicing on friends for a year (and on herself since childhood!). She also has an eyelashes brand, @lashedby_faith, and is a hair stylist, @glam___wigs.
Cosmetics Advice: "Using the correct foundation is the key to flawless makeup application. Research undertones, skin type and texture before purchasing," she says.
Personal Style: She's drawn to neutral looks. "My most important beauty ritual is filling in my eyebrows. And using moisturizer."
Makeup Matters: "Being a Black beautician and using my talent to beautify and empower other Black queens is an honor. Makeup is a confidence booster and enhancing a person's features and showing their beauty is what I cherish most."
Violinist
Cassandra Laman, Senior Accounting Major (Metro)
First Foray: At age 8, Laman picked up a violin. She started taking lessons in high school.
Play On: Laman played at FDU in a Sands of Time spring recital in 2019. She performed alongside Gayathri Attiken, director of international admissions, on piano, and Craig Mourton, deputy campus executive, on double bass. The trio performed selections by Johann Sebastian Bach and Charles-Camille Saint-Saëns.
Making Music: "Playing the violin is therapeutic. Performing with other musicians creates a bond, and nothing is better than sharing music with others who love it, too," she says.
Fun Fact: Shares a birthday with her favorite composer, John Williams
Summer Internship: Worked virtually for Barclays as a summer operations analyst
Yo-Yoer
Kevin Weller, BA'20 (Flor)
Yo-yo Pro: After buying his first yo-yo at age 14, Weller joined an online community of enthusiasts, making friendships and sharing tricks — eventually repping a yo-yo company for a time. He even attended The National Yo-Yo Contest in 2018!
Play Style: "I tend more toward doing intricate string formations and movement tricks because that's more creative," he says.
Busy Hands: Weller has attention-deficit disorder (ADD), but says yo-yoing keeps him from getting too antsy. He finds himself casually picking up one of the 30 yo-yos he has stashed around his house and doing tricks as he walks around or chats with family.
Postgrad Job: Technical solutions engineer at Epic, a health-care software company in Wisconsin.